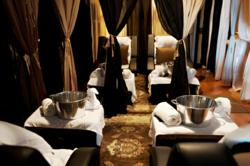 Often couples will chose to have services such as a full body massage in the suite and then end their journey in The Foot Sanctuary
Commack Long Island New York (PRWEB) December 21, 2012
The Foot Massage Sanctuary located inside the Hands On HealthCare Massage Therapy and Wellness Day Spa where the catchy tagline "Let Us Knock Your Socks Off" is often used, has become a favorite destination of Long Islanders. And now, Hands On has added additional services that are available, including a massage spa party, referred to as the Pampered Little Piggys Party. The name may be silly but the services are truly spa.
Spa Parties are very popular at Hands On. Spa Parties are usually held in the beautiful private Tranquility Room and a warm, inviting private massage space. The massage rooms are separated by long, flowing drapes giving a feeling of luxury and times past. It offers a genteel style, yet it speaks of sophistication and grace. There is a minimum of 6 guests for these traditional parties. However, now Hands On will be able to accommodate parties with less than 6 guests, in The Foot Sanctuary. The parties will be quite different as far as services, but very much the same when it comes to inspiring relaxation.
To view a video of the Foot Sanctuary Video, Click Here.
"This is a wonderful compliment to the other type of spa parties offered at Hands On" states Marla Kaplan-Pelle, Owner of Hands On. We often host Bachelorette Parties, Birthday Parties and more. The Foot Sanctuary offers low warm lighting, comfy cozy relaxation chairs designed to melt away stress and of course, an actual foot scrub and foot massage experience. The massage includes guest's feet and lower legs. The guests will then enjoy a cup of tea and a spa snack.
The Foot Sanctuary visually stimulates the senses in creating a calming area that ensures guests leave feeling better than when they first arrived. It lends itself to soft conversation. "Friends or loved ones often share this nurturing experience", states Kaplan-Pelle, "Memories are made here! This is a unique spa experience that also takes the stress out of the wallet."
In addition, Hands On has introduced new individual services to the Foot Sanctuary, such as the SuperStress Solution Sessions. These sessions are wonderful on their own or as a great way to compliment other services. "Couples Massage is very popular at Hands On, where a beautiful private couple's suite can be found" Kaplan-Pelle explains. "Often couples will chose to have services such as a full body massage in the suite and then end their journey in The Foot Sanctuary."
Hands On HealthCare Massage Therapy and Wellness Day Spa has been serving the Commack Community since 2000. The company is a recognized leader in Advanced Medical Massage in Suffolk County, Long Island, specializing in pain, injury and disease. Modalities include Pre-Natal and Post-Natal Massage, Sports Massage, Trigger Point Therapy, Myofascial Release, Manual Lymph Drainage and much more. In addition, we offer spa treatments that include facials, skincare and signature body treatments. Hands On has an extensive Couples Spa Date Menu and Spa Party packages available for both on and off-site. Mobile services include bringing the day spa to your doorstep at home, venue or corporate function. Common events include Bachelorette Parties, Showers, Birthdays, Bar and Bat Mitzvahs, Sweet 16 Corporate Events and functions. Hands On HealthCare Massage Therapy's Licensed Massage Therapists and Estheticians provide clients with the ultimate experience in attention, service and care.
Hands On HealthCare Massage Therapy and Wellness Day Spa
Marla Kaplan-Pelle, Licensed Massage Therapist, Certified Lymphatic Therapist, Director
208 Commack Road, Commack, NY 11725
631.462.4263