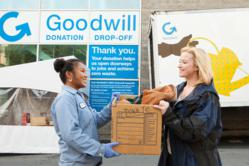 "This year we wanted to personally say thank you to our extraordinarily loyal and generous donation community," Leslie Bilbro, Goodwill's Director of Donations
San Francisco, CA (PRWEB) December 21, 2012
Goodwill Industries of San Francisco, San Mateo and Marin is hosting an end of the year Donate-a-thon event at 1500 Mission Street in San Francisco on Dec. 31. The event is designed as a tribute to the thousands of donors who make the 96-year-old non-profit's work possible and to encourage people to make material donations before the end of the tax year.
"This year we wanted to personally say thank you to our extraordinarily loyal and generous donation community and so the Goodwill Donate-a-thon was born," said Leslie Bilbro, Goodwill's Director of Donations.
Goodwill's downtown SF headquarters will be transformed into a "Donation Sensation" featuring live music, donor tributes, snacks, and holiday treats for children. The celebration will feature costumed bell hops ready to help donors and will showcase Goodwill's redesigned brand.
Goodwill is also partnering with local radio stations KOIT-FM and KFOX-FM to provide San Francisco Zoo or Century Theater movie tickets to the first 400 Goodwill donors when the donation gates open at 7 a.m. on Dec. 31.
The material donations that Goodwill receives each year, over 20 million pounds annually, fund Goodwill's comprehensive suite of workforce development services, providing dignified pathways out of poverty in the three county area Goodwill serves.
Goodwill accepts a very wide range of gently-used items, including toys, clothes, electronic items and household goods. To kick off this season of giving, former San Francisco Mayor Willie Brown donated more than 90 custom-tailored items from his personal collection which are available in an online auction.
"More people have jobs, the tax base in San Francisco, Marin and San Mateo has been strengthened, and millions of pounds of repurposed products have been diverted from landfill. We have good reason to celebrate," said Mayor Brown.
The event will provide SF Goodwill the opportunity to personally thank donors for their generosity and commitment to providing needed employment opportunities in the Bay Area. For more information on the Donate-A-Thon event, visit sfgoodwill.org.
All prizes offered as part of the Donate-A-Thon will be available only at the 1500 Mission Street location on a first-come, first-served basis beginning at 7 a.m.
###
About Goodwill Industries of San Francisco, San Mateo and Marin Counties, Inc.
Goodwill Industries of San Francisco, San Mateo and Marin Counties, Inc. is a driving force behind positive change. Goodwill is where second chances are found and resilience is rewarded. More than 7,087 people partnered with Goodwill in 2011 to achieve transformative personal growth through innovative employment, education and support programs and hands-on guidance. By teaching real world skills and opening a few doors, Goodwill provides the tools people need to chart their own course from poverty to the perpetuating benefits of professional and personal success.
Statistics only tell part of the story, but our impact is clear. In 2011 Goodwill employed 882 people in our nonprofit social enterprises and placed another 529 people in local jobs outside of Goodwill. The economic impact generated by these jobs infused more that $17 million into the California economy. The taxes generated by Goodwill employees alone provided over $2 million in needed public revenue.