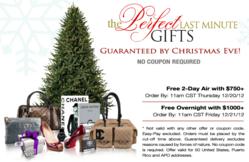 Unbeatable prices on discounted luxury items.
(PRWEB) December 21, 2012
With the holiday season in full swing, Rodeo Drive Resale (http://www.shoprdr.com), premier reseller of 100% authentic discount Christian Dior heels, Balenciaga wallets, Prada shoes, and other beloved fashions, continues to pass the savings along with unbeatable prices on discounted luxury items from many of the world's most beloved brands.
Items available include a Fendi multi-color print scarf, a Tiffany & Co. sterling silver "Return To Tiffany" heart tag & necklace, a new St John Knits black patent leather heels , and several other top name fashion and accessories.
During this special event, shoppers can save up to 75% off all merchandise at shopRDR.com. While holiday shoppers stake out the local mall or area outlet store, shopRDR.com invites fashion fans to purchase quality pieces from the comfort of their own home, with deals that are tough to beat.
ShopRDR.com's Cyber Monday sale is just one of several major promotions from the popular online reseller in the past several weeks, as shopRDR.com held its Black Friday Sale sale on November 23rd and its animal print campaign, "Walk On The Wild Side" in September. The successful Labor Day Weekend sale offered savings of up to 25% off all designer clothing and an additional 15% off all designer shoes with free shipping on orders of $200 or more, as well as 10% off all designer handbags, one of fashion's greatest investments, noted shopRDR.com co-founder Raya Jaffer: "Designer handbags typically do not go out of style, which is good because they can last for many years."
At Rodeo Drive Resale, an online luxury resale store with over a decade in the business, shoppers can choose from an array of designer items that include handbags, shoes, jewelry, accessories and watches. Their clients, which range from everyday bargain hunters to high profile celebs, are guaranteed 100% authenticity on every item in stock, which store co-founder Raya Jaffer says equals guilt-free shopping.
Rodeo Drive Resale (shopRDR.com) has built a reputation of providing amazing deals on handbags, clothing and accessories from the top designers of upscale fashion. The company offers a 100% guarantee of authenticity on each item sold, and works daily with a network of clients looking to buy, sell, or for consignment of their luxury goods. ShopRDR.com loves high-end fashion, and believes finding a high quality, classic piece should be an easy, enjoyable -- and most importantly -- hassle-free shopping experience. For the finest in Louis Vuitton, Chanel, Prada, Gucci, St. John Knits, Christian Louboutin, Tiffany & Co. and more, visit RDR online at http://www.shopRDR.com or call 1-888-697-3725. Also find shopRDR.com's blog at http://blog.shopRDR.com.
Also find shopRDR at:
Blog: blog.shopRDR.com
Facebook: facebook.com/shopRDR
Twitter: twitter.com/shopRDR
YouTube: youtube.com/ shopRDR
Pinterest: pinterest.com/shopRDR
Rodeo Drive Resale (shopRDR.com)
1-888-697-3725
service(at)shopRDR.com