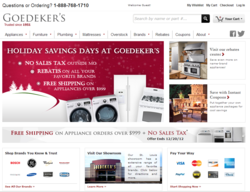 We want help people take back the one resource that can never be replaced – time.
Ballwin, MO (PRWEB) December 21, 2012
Internet retailer Goedeker's has announced the release of a new website design and eCommerce shopping platform. The launch culminates efforts led by owner Steve Goedeker and the senior management team at the Goedeker's headquarters and showroom in Ballwin, MO.
"This new platform positions Goedeker's to significantly expand our product offering," says Goedeker. "Through the addition of new furniture and appliance lines, we want help people take back the one resource that can never be replaced – time. Whether you're a bustling family struggling to find time to gather everyone around the dinner table or a new family just setting out, we want you to have the time to spend making new memories and enjoying your home."
New features including a streamlined checkout process, improved social sharing abilities for services like Facebook, and a more user-intuitive interface are some of the features planned for immediate or near-future release.
The new goedekers.com is powered by Magento eCommerce software. According to Jeff Minor, CTO, "Magento opens up new opportunities that our old platform just couldn't provide. The Magento user community is a thriving, growing group of merchants and developers working together to make the shopping process enjoyable for consumers and efficient for businesses. We've barely scratched the surface of this new cart's potential."
The new site design has a very modern, minimalist approach designed to focus attention on the products available instead of the site design. "We wanted to deliver a site that was conveyed trust, ease of use, and value. Our new design takes us closer to that goal than we've ever been," says Goedeker.
To see the new design and browse available products, visit http://www.goedekers.com.
About Goedeker's: Goedeker's is a family owned and operated home goods retailer located in the St. Louis, Missouri, suburb of Ballwin. First established in 1951 as an electronics repair shop, Goedeker's has grown to be one of the largest, most trusted independent retailers of home appliances, furniture, mattresses, and plumbing supplies online.
About Magento: Magento is a feature-rich, professional open-source eCommerce solution that offers merchants complete flexibility and control over the look, content, and functionality of their online store. Magento's powerful marketing, search engine optimization and catalog-management tools give merchants the power to create ecommerce sites that are tailored to their unique business needs.