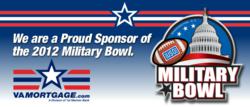 Baltimore, MD (PRWEB) December 21, 2012
VAMortgage.com is sponsoring the 2012 Military Bowl this December 27th at RFK Stadium. The no. 24 San Jose State Spartans will be taking on the Bowling Green Falcons. Kickoff is scheduled for 3PM EST and the game will be nationally televised on ESPN.
The game features top level talent in a first-ever meeting between the two teams. "We couldn't be more excited," Military Bowl Executive Director & President Steve Beck said. "This could potentially be the best matchup in our five-year history."
The Military Bowl benefits the USO, which has helped lift the spirits of troops at home and overseas for more than 70 years. The organization also proudly supports military families by offering programs and facilities that help them endure the stresses of deployment and loss.
"The USO is a wonderful organization that truly helps keep soldiers happy and families strong. Their organization is supported by some really thoughtful citizens who just want to give back to the men and women in uniform, and that's really powerful," said Brian Kavanagh. "Our team tries to emulate that same level of commitment to veterans. We want to ensure all military members have access to the benefits and support they deserve when they get to return home to their families and friends."
Sponsorship was a logical opportunity for VAMortgage.com, who is looking forward to expanding their relationship with the USO as well as the Washington community. The bowl provides broad types of support for the USO and positively impacts the regional economy.
Additional information about the game can be found on the bowl's website, http://www.militarybowl.com.
About VAMortgage.com
VAMortgage.com provides comprehensive VA loan services for military members and families across the country. Featuring military veterans on staff, the organization offers a level of familiarity with military members that cannot be found from other lenders. VAMortgage.com is one of the few lenders who can take applicants through the entire loan process, start to finish.