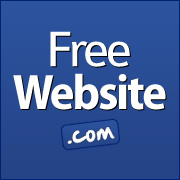 New York, NY (PRWEB) December 22, 2012
FreeWebsite.com, a leader in providing low-cost websites, published an article today about their dental website template. Dentists may believe that since they can't provide their services online, they don't need a website. However, they are missing a valuable marketing tool if they don't have one.
"A website isn't just for selling goods," said a FreeWebsite.com representative. "It is also an opportunity to tell potential patients about yourself and the services you offer. A website lends professional credibility and gives patients the sense that they know you before their first appointment."
"Today's consumer is much more demanding and expects to find information about a dentist before deciding to set up an appointment," the representative continued. "It is essential to have website where you can tell them about yourself and your education, introduce them to your staff and even allow them to set up appointments. Our dental website template will help you do all that."
Choosing the right dental website template for your dental practice can be a challenge, but the staff at FreeWebite.com is available to help. Users can select the free template, but for only a few dollars a month, you can select a premium package with more options.
To read the article, visit: http://www.freewebsite.com/dental-website-template/
About FreeWebsite.com: FreeWebsite.com breaks down barriers to website ownership by providing attractive, easy to use websites, complete with content, at low prices. To learn more, visit FreeWebsite.com.