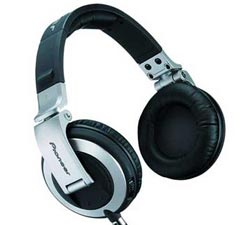 "These [Pioneer HDJ-2000 headphones] are as rugged as can be and light. It sports good quality hinges. I expect them to last years [from] now. Sound is great, deep and crystal clear." –Bluesky, AMS Customer
Oakland, NJ (PRWEB) December 21, 2012
Having a set of one of the best DJ headphones can provide a competitive advantage for working DJs. By increasing the volume of sound they can hear problems in the music before the audience realizes something is wrong, and inferior headphones might not allow them to recognize the situation. High quality equipment can be a difference maker between a good gig and a great gig, and allows DJs to reach levels that are impossible without technological help.
In an excerpt from the guide "Best DJ Headphones" seen below, DJ Blaze talks about the Pioneer HDJ-2000 as one of the best DJ headphones.
"The HDJ-2000 headphones are perfect for DJs as they can bend, twist and swivel in all different types of directions. The HDJ-2000's are made almost exclusively of metal yet they can fold into a small form factor for easy storage and transport. They also have a removable/replaceable cable and the leather memory foam for the headband and earcups are high-quality and comfortable."
With seven different models of headphones reviewed everyone can find the right fit, budget and functionality to suit their needs. Not every DJ has the same priorities when looking into buying new equipment. Some may value performance above everything else, while others may not be willing to sacrifice the comfort of the headphones for more durability. No matter what the DJ's personal preference there are quality headphones in the guide for everyone.
Finding success in the DJ business is difficult enough with the right hardware, but a DJ without solid headphones is like a baseball player without a glove. Without headphones DJs may not be able to hear the nuances and beat changes in the music, and therefore can't make the necessary corrections like they would if they had a set of the best DJ headphones. Also, music enthusiasts can experience a whole new world of music that they have never heard before with headphones like the Pioneer HDJ. Listening to their favorite tracks with the utmost sound quality might reveal things that give them a whole new perspective. To read the guide, DJs and music connoisseurs alike should visit American Musical Supply to find their version of the best DJ headphones.
Located in Oakland, New Jersey, American Musical Supply is a leading online merchant of professional and affordable musician equipment and supplies including guitars, amplifiers, live sound, DJ gear and more. AMS offers award-winning customer service and the American Musical Supply website has also been ranked in Internet Retailer's top 500 e-retailing businesses