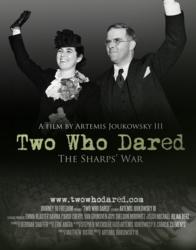 Northampton Peace Activist shares remarkable story of Sharps' courageous rescue of WWII refugees
Northampton, MA (PRWEB) December 21, 2012
Frances Crowe will host a free preview screening of Two Who Dared: The Sharps' War in the Frances Crowe Community Meeting Room at the Media Education Foundation in Northampton, Massachusetts on Friday, December 21, 2012 at 7 pm.
Two Who Dared is the never-before-told story of Waitstill and Martha Sharp, an American minister and his wife from Wellesley, Massachusetts, who boldly committed to a life-threatening mission in Europe to help save imperiled Jews and refugees at the onset of World War II. Leaving their two young children behind in the care of their parish, they worked tirelessly behind the scenes, using everything at their disposal, including the black market and the anti-Nazi underground, to bring as many of the oppressed to freedom as possible. The post-production film editor will be screening the film and will be available for questions and answers. Find out more at http://www.twowhodared.com.
The Media Education Foundation (MEF) produces and distributes documentary films and other educational resources to inspire critical thinking about the social, political, and cultural impact of American mass media.
MEF welcomes the use of the Frances Crowe Community Meeting Room (FCCMR) by non-profit organizations engaged in civic, cultural, educational, and public information meetings. As a progressive non-profit organization, MEF is committed to supporting other similarly minded organizations. The community room is located on the lower floor of MEF in the historic firehouse at 60 Masonic Street in Northampton, MA.
The fiscal sponsor for Two Who Dared: The Sharps' War is No Limits Media Inc., a 501 (c) (3) organization.