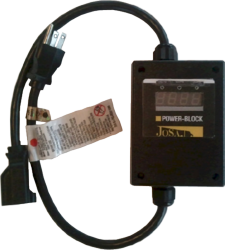 Grand Rapids, MI (PRWEB) December 31, 2012
Unique Truck Equipment has released a new tool with the ability of monitoring diesel engine heaters. The Power Block - Block Heater Tester was designed to test and monitor the function of block heaters, fuel tank heaters, battery heaters, and oil pan heaters, the company said.
According to Unique Truck Equipment, The Power Block - Block Heater Tester identifies a failing heater by testing volts, amps, and watts, allowing it to be replaced before cold-weather freeze ups occur. A single freeze up can cost a shop and technician time, towing expenses and leave a truck out of commission.
"The Power Block gives drivers and fleets peace-of-mind. They know they are saving money by avoiding idling costs and freeze ups." said Ryan DeWard, Vice President of Unique Truck Equipment. "The Power Block gives fleets the ability to reduce their overall cost of hauling in winter."