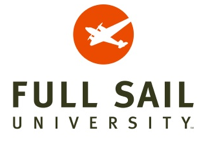 "Full Sail University is proud to serve as the co-host for CG Extreme alongside Grupo Seven," said Full Sail University President, Garry Jones
Winter Park, FL, (PRWEB) December 21, 2012
Full Sail University is proud to announce that the U.S.-based institution will co-host "CG Extreme" alongside Brazilian-based learning institution Grupo Seven. CG Extreme, created by Grupo Seven, is positioned as the premiere computer graphics and media convention in Brazil for students and aspiring professionals. CG Extreme is scheduled to take place at the acclaimed Citibank Hall in Rio de Janeiro on April 27 and 28, 2013.
With over 20,000 students and 12 locations, Grupo Seven is one of the largest computer graphics and game design schools in Brazil. As part of an evolving strategic partnership with Full Sail University, Grupo Seven's CG Extreme weekend features a roster of keynote speakers - all of whom are highly-successful Full Sail University graduates working in entertainment throughout the world, and many of whom are inductees of Full Sail University's Hall of Fame.
"Our goal is to educate Brazilian students whose interests lie in media and entertainment," says Marcelo Crivella, President of Grupo Seven. "Brazil has everything needed to become a huge entertainment producer in the next five years, and we want to provide the best individuals inspired to create content for the world."
The scheduled keynote speakers for CG Extreme are:
Laurie Brugger

Senior Rigger at Framestore
Industry Credits Include: Captain America: The First Avenger, Harry Potter and the Deathly Hallows: Part 1, Clash of the Titans, Where the Wild Things Are, The Tale of Despereaux, Valiant, and more.
2011 Visual Effects Society Award Winner: Outstanding Animated Character in a Live Action Feature Motion Picture Harry Potter and the Deathly Hallows, pt 1 Character – Dobby
Chance Glasco

Senior Animator at Infinity Ward
Industry Credits Include: Medal of Honor: Allied Assault, Call of Duty® (2003), Call of Duty® 2 (2005), Call of Duty® 4: Modern Warfare® (2007), Call of Duty®: Modern Warfare® 2 (2009), and Call of Duty®: Modern Warfare® 3 (2011).
Nathaniel Howe

Creative Director/Partner at Nathaniel James
Industry Credits Include: Sons of Anarchy, Wipeout, ESPN, Boardwalk Empire, Pepsi, ABC and Sony Italy.
Sebastian Krys

GRAMMY® Award / Latin GRAMMY® Award-Winning Producer/Engineer
Credits Include: Shakira, Gloria Estefan, Carlos Vives, Jennifer Lopez, Luis Fonsi, and honored as the 2007 Latin GRAMMY® Producer of the Year.
Cordy Rierson

Executive Producer/Microsoft Studios
Credits Include: Video Game releases: Silent Hill Homecoming, The DaVinci Code, and Star Wars Episode III: Revenge of the Sith. Digital Visual Effects for blockbuster films: Clear and Present Danger, Independence Day, Legend of Bagger Vance and Forces of Nature.
Jayson Whitmore

Creative Director / Principal at Royale
Past Clients/Projects Include: Apple "Nano," Madonna, Christina Aguilera, Diesel, VH1, Comedy Central, Nickelodeon, Jet Blue and McDonalds.
"Full Sail University is proud to serve as the co-host for CG Extreme alongside Grupo Seven," said Full Sail University President, Garry Jones. "In recent years, the interest in all forms of entertainment and media has grown dramatically in Brazil and is further evident as the country prepares to serve as the host location for the 2014 FIFA World Cup and the 2016 Summer Olympics. We are honored that Grupo Seven and the country of Brazil would look to our institution to partner in this important event and afford our graduates the opportunity to share their life's work and experiences."
About Grupo Seven:
Grupo Seven is nationally recognized in Brazil as a leading school in the areas of game and computer graphics. With over 20,000 students in 12 locations, Grupo Seven is proud to offer effective and innovative solutions for the challenges in 21st century education. The success of Grupo Seven is a result of believing in human potential, merged with the integration of technology, and always valuing the development of strong lasting relationships.
About Full Sail University:
Full Sail University is an award-winning educational leader for those pursuing careers in the entertainment and media industry. Founded in 1979, Full Sail has been recognized as one of the Top Five Game Degree Programs by Electronic Gaming Monthly, one of the Best Music Programs by Rolling Stone Magazine, and one of the Best Film Programs by UNleashed Magazine. In 2011, Full Sail received the "21st Century Best Practices in Distance Learning Award" from the United States Distance Learning Association, was named the "School/College of the Year" by the Florida Association of Postsecondary Schools and Colleges, and was recognized as one of the Top 100 Social Media Colleges by Studentadvisor.com.
Full Sail offers Master, Bachelor, and Associate campus and online degree programs in areas related to animation, art, business, education, graphic design, film, marketing, web development, music, recording arts, sports, and video games. Full Sail graduate credits include work on OSCAR®, Emmy®, GRAMMY®, ADDY®, MTV Video Music Award, and Spike Video Game Award nominated and winning projects.
http://www.fullsail.edu/
http://www.twitter.com/fullsail
http://www.facebook.com/fullsailuniversity
###