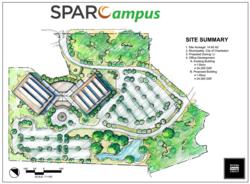 We celebrate SPARC's decision invest more than $11 million and create 310 new jobs in Berkeley County.
Charleston, SC (PRWEB) December 21, 2012
SPARC announced plans today to expand operations and develop its Berkeley County headquarters into a multi-building campus. The more than $11 million investment will generate 310 new engineering and professional jobs over the next four years.
"Our award-winning culture has filled our current building to capacity, so we're excited to build a full campus for our team," said Eric Bowman, SPARC CEO. "The new multi-building environment will not only deliver a great place to do business for our team, partners, and customers, but enable us to create over 300 new technology and professional jobs here in the Lowcountry."
SPARC is in the process of expanding and consolidating its operations into a multi-building campus, which will feature natural-light buildings, an auditorium, and greater amenities. The company is purchasing its current building, located at 2387 Clements Ferry Road, and intends to construct an additional building, giving the company up to 100,000 square feet of space. Construction is expected to begin in January and the new building will be in use in the fourth quarter of 2013.
"We celebrate SPARC's decision invest more than $11 million and create 310 new jobs in Berkeley County. More and more companies are realizing that South Carolina is the 'it' state to put down roots because they see companies like SPARC find success and grow here. It shows we know the importance of supporting our existing businesses," said Gov. Nikki Haley.
"It is great to see another high-tech company like SPARC build on its success in the Palmetto State. Today's announcement is the second one we've had in the information technology sector in the Lowcountry in the past two weeks. Investments like this showcase the diversity of South Carolina's and that our state is just right for these firms," said Secretary of Commerce Bobby Hitt.
In the past two years, SPARC has grown from 28 to 175 team members, and has committed to 310 new jobs through the next four years. The Coordinating Council for Economic Development approved job development credits, which will be available when hiring targets are met. Hiring for these new technology positions has already begun, and anyone interested in this opportunity should visit http://www.sparcedge.com/careers.
"SPARC is one of the new high-tech, high energy corporations that continues to move us toward the next generation of technical solutions. I'm excited and encouraged to see the tech industry continue to grow and prosper in Berkeley County," said Berkeley County Supervisor Dan Davis.
"The Charleston region is one of the nation's fastest growing mid-size metros for IT/software jobs, because companies and talent know they'll be successful here," said Wayne Hall, Charleston Regional Development Alliance Board chairman. "SPARC is consistently rated as a great place to work and we're pleased they've chosen to expand and deepen their roots in Berkeley County. It's a testament to our region's skilled workforce and business-friendly environment."
About SPARC
SPARC is a software development company creating engaging, forward-thinking technology while putting customers, employees, partners and the community first. With offices in Charleston and Washington, D.C., SPARC provides software development services for the government and commercial sectors, and develops commercial software products for the executive leadership, human resources, green energy, analytics and mobile markets. To learn more about SPARC, please visit sparcedge.com.
About S.C. Department of Commerce
As South Carolina's leading economic development agency, the Department of Commerce works to recruit new businesses and help existing businesses grow. Commerce won the Gold Shovel Award and the Project of Year Award from Area Development magazine in 2012. Commerce has been part of recruiting world-class companies to South Carolina such as Boeing, Bridgestone, Continental, Monster.com, Heinz, ZF Group, BMW and Google Inc. Commerce also supports small and existing business, rural development initiatives and offers grants for community development. For more information, visit SCcommerce.com.