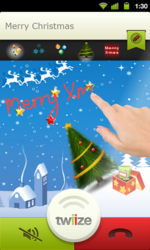 "This Christmas you can surprise your friends and family by sending them cute Christmas greetings over the phone while you're talking to them!"
Tel Aviv, Israel (PRWEB) December 21, 2012
Twiize (http://www.twiize.com), the new "visual call enhancer" app, today announced the launch of an unforgettable Christmas messaging feature that enables people to create, personalize, and instantly exchange beautiful Christmas greetings and images on their phones while talking to friends and family.
Twiize takes your phone conversations to the next level by adding photo sharing and interactivity to your phone conversations! The Twiize app lets you browse your friend's recent Facebook activity, share and view his or her photos and statuses, draw and exchange amazing sketches and personalized notes, and even send greetings while on a call.
"This Christmas you can surprise your friends and family by sending them cute Christmas greetings over the phone while you're talking to them!"
Creating a Twiize interactive Christmas greeting is very simple. All you need to do is install the free Twiize Android app and call someone, even someone that doesn't have Twiize installed! During your phone call, you can select and decorate your Twiize Christmas tree with ornaments of various sizes and colors! You can draw and wish the person you're talking to a Merry Christmas with amazing sparkling "markers." You can even put personalized gifts under your Twiize Christmas tree! After you're done creating your greeting, you can instantly send your greeting to the person you're talking to while still on the phone with them! They'll receive your greeting even if they don't have Twiize installed on their phone.
Watch it at: http://www.youtube.com/watch?v=nhGKcGtKxY4
"Every year, people exchange Christmas greeting cards and call their loved ones to wish them a Merry Christmas," said Twiize founder and CEO Ido Milstein. "With Twiize, this Christmas people will be able to create and exchange beautiful, personalized Christmas greetings with the people they're talking to – while talking to them!"
For more information, visit http://www.twiize.com or email us at info(at)twiize(dot)com.
About Twiize
Twiize (Call Labs Ltd.) is the first company to take phone calls to the next level, creating a visual and interactive phone call experience. Combining full-screen browsing (photos, videos ,posts,…) with new ways to share and interact, Twiize lets users enjoy phone calls on their own, and have twice the fun together. Twiize is a young and creative start-up, based in Tel-Aviv, founded Aug 2012. Download the Twiize application at https://play.google.com/store/apps/details?id=com.twiize.app.
For more information, visit http://www.twiize.com.