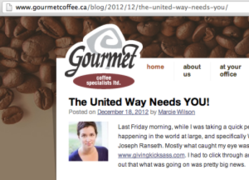 "We understand how important it is to give back to our community, to causes like the United Way that aim to give every community member the high standard of living that so many of us take for granted,"
Winnipeg, MB (PRWEB) December 20, 2012
In September of 2012, United Way announced a year-end fundraising goal of $20.4million - necessary to continue supporting and strengthening its network of life-changing programs and services that reduce poverty, help children to reach their potential, and inspire stronger and healthier communities. Unfortunately, with the end of the year drawing near, the United Way realized that it would most likely be short of its goal by $300,000.
"We're getting close to the holidays," said 2012 campaign chair Doug Finkbeiner. "And while our thoughts appropriately turn to our family and celebrating all we have to be thankful for, there are thousands of people that are struggling to hang on."
Understanding the importance of responding to this need, Gourmet Coffee Specialists, a Winnipeg office coffee provider, partnered with Reunion Island Coffee to help United Way to meet their fundraising goal. The two companies came up with the idea that they could sell bags of select Reunion Island Coffee whole bean products for $10 each, (taxes included,) with $2 from each purchase going towards the United Way.
"We understand how important it is to give back to our community, to causes like the United Way that aim to give every community member the high standard of living that so many of us take for granted," said Marcie Wilson, Sales & Marketing Coordinator for Gourmet Coffee Specialists. "This promotion is our way of helping the United Way to carry on their amazing programs."
Bags of coffee are now on sale at Gourmet's 1485 Erin Street location from 8:00am-4:30pm Monday to Friday for $10/bag, (tax included,) with $2 from every purchase going towards the United Way.
About Gourmet Coffee Specialists Ltd.
Gourmet Coffee Specialists Ltd. started as a local mom and pop coffee service in Winnipeg in 1974, and has grown into a full-service regional operation servicing thousands of customers' coffee and other beverage needs across Manitoba and, through affiliation, customers across Canada.
About United Way of Winnipeg
United Way of Winnipeg operates out of 580 Main Street, centrally located in Winnipeg's downtown. Volunteers drive the organization, engaged in every aspect of operations and are fundamental to our success. Volunteers not only lead fundraising initiatives, they direct the allocation of funds, play a central role in various United Way of Winnipeg-led programs, and provide strategic advice on how best to meet the needs of the community. Over 5,000 individuals volunteer in some capacity with United Way of Winnipeg.