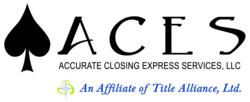 I don't want them (customers) to worry about stress on the title end and want them to trust in me.
Wexford, PA (PRWEB) December 21, 2012
Accurate Closing Express Services, LLC, a RESPA Compliant title joint venture between Title Alliance, Ltd. & Keller Williams, is pleased to announce the opening of a Wexford, Pennsylvania branch. This venture will provide a range of title services that will benefit their customers. This branch officially marks the 27th Market Center that has a Title Alliance relationship in the Mid Atlantic Region.
"Our customer base is growing," says Mike McGavisk of Keller Williams, "and we know that the addition of a Wexford Branch will strengthen the position of ACES in the marketplace giving us the Pennsylvania expertise in transactions."
The Wexford branch will be managed by, Tracy Frank. Tracy began in the title industry in 1984. She started as a title receptionist before moving on to work in the commitment and closing department. Tracy has extensive experience working with lenders and their closing documents and preparing HUD-1 statements for closing. She has handled all aspects of the settlement process from application through closing to post policy production.
Tracy joined the T.A. family of companies in 1995 and has worked with several offices since then and is very excited to be a part of Accurate Closing Express Services. She is looking forward to working with the agents and their customers and to providing seamless settlement transactions. Tracy is well versed in residential and commercial; as well as purchase and refinance transactions. Customers can trust that their transactions are in knowledgeable hands. "I'm looking forward to helping customers get into their homes," says Frank. She concludes, "I don't want them to worry about stress on the title end and want them to trust in me."
The Wexford branch of ACES is located in Wexford, PA on Perry Highway. Tracy can be reached at 724.933.8586 or via email at tfrank@accurateclosingexpress.com. Accurate Closing Express Services is licensed in Pennsylvania and Delaware. On the ground in Delaware, paralegal JoAnn Macconi handles the processing of the Delaware transactions while attorney Matt Longo, Esq. of Longo & Associates, LLP continues to be the selected closing attorney.
Title Alliance, Ltd. is located in Media, PA and has been creating RESPA compliant title joint ventures since 1983 with lenders, mortgage bankers, REALTORS, builders and credit unions. For more information or to find out how a Title Alliance partnership could benefit you visit them online at http://www.titlealliance.com or contact Lindsay Smith at 800-220-3901 x 165.