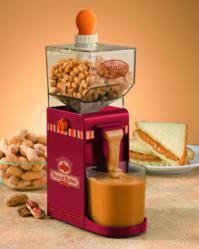 Green Bay, Wisconsin (PRWEB) December 24, 2012
The New Year is fast approaching, marking the widespread start of resolutions to lead healthier lifestyles in 2013. The Peanut Butter Maker from Nostalgia Electrics is designed for consumers looking to enjoy all-natural, preservative-free nut butters at home without sacrificing on taste or convenience. This fun and easy to use appliance transforms any nut variety into creamy, spreadable butter that's ready to eat within minutes. Available exclusively online at a suggested retail price of $39.99, the Peanut Butter Maker is the newest addition to Nostalgia Electrics' extensive appliance line that may help keep healthy eating goals on track.
With just two ingredients required – nuts and oil – the Peanut Butter Maker couldn't be easier to use. Simply fill the bin with shelled nuts, place the filled oil dispenser in the top and flip the switch. Fresh, creamy nut butter flows into the included container within seconds. Free from preservatives and additives found in store-bought varieties, homemade nut butter is a healthier, safer choice for consumers.
"We're constantly seeing headlines on peanut butter recalls due to salmonella poisoning. Making fresh, homemade nut butter allows you to control the ingredients you're consuming. With the Peanut Butter Maker, you can enjoy a fresher, better-tasting product and customize it to your taste," says Gregg Bond, President of Nostalgia Products Group, LLC.
The Peanut Butter Maker is designed to work with a variety of nutrient-rich nuts including peanuts, cashews, almonds, hazelnuts, macadamia nuts, sunflower seeds and more. With the option to add natural sweeteners, like honey, to prepared nut butter or mix different nuts for unique flavors, taste buds will never tire of the Peanut Butter Maker.
Features:

Makes all-natural, preservative free nut butter
Grinding mechanism blends shelled nuts to a creamy consistency
Oil dispenser allows consumer to achieve desired texture
Works with any nut variety, raw or roasted
Container included for storing nut butter in refrigerator
The Peanut Butter Maker is distributed by:
Nostalgia Products Group, LLC
1471 Partnership Drive
Green Bay, WI 54304-5685
About Nostalgia Products Group, LLC:
Nostalgia Products Group, LLC, designs, manufactures and markets the Nostalgia Electrics brand of small electric appliances. Nostalgia Products Group, LLC also develops a wide range of innovative products to excite consumers and retailers alike, such as the new Peanut Butter Maker. Their products are sold through all major channels of distribution from both within the United States and worldwide. Retail and e-retail sales include all major department store chains, home shopping networks, catalogs, and e-commerce companies. Internationally, NPG products carry the GS and SSA electrical approvals. They ship to over 30 countries worldwide. Services include product development, sales, marketing, warehousing and distribution. Please visit Nostalgia Products Group, LLC online at: http://www.nostalgiaelectrics.com.
For more information, please contact:
Sales and Marketing
Nostalgia Products Group, LLC
Phone: 920.337.9800 • Fax: 920.337.9984 • E-mail: sales@nostalgiaelectrics.com
For media inquiries, please contact:
Mary Rozwadowski
Nostalgia Products Group, LLC
Phone: 920.337.9800, x153 • E-mail: mrozwadowski@nostalgiaelectrics.com