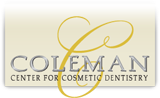 Poway, CA (PRWEB) December 23, 2012
Dr. Coleman, of the Coleman Center for Cosmetic Dentistry, now treats patients with the new Laser Assisted New Attachment Procedure. He is now part of only one percent of dental practitioners around the country that have trained and certified on this new dental surgery for gum disease. Dr. Coleman works hard to stay on the cutting-edge of current dental technology.
The technique begins with the measurement of the periodontal pockets. Next, the FDA-cleared PerioLase MVP- laser is used to vaporize the unhealthy gum tissue and kill the bacteria. No sutures are required and no scalpel is used in this procedure. Once the diseased tissue is removed, the laser helps to promote clotting so that the remaining healthy gum tissue can seal to the teeth roots. The tissue is compacted against the roots so that no sutures are needed to help the gums re-attach. The jawbone is stimulated to regenerate, which helps to save teeth that may have been in danger of being lost prior to treatment.
For most patients, discomfort and pain are rare and recovery times are short. Those who have put off getting treatment because they didn't have enough time off of work to have the traditional gum disease treatments can now schedule treatment. Most patients are back at work within a day, while some even resume full activity levels later the same day of the procedure.
Research shows that there are connections between gum disease and other serious health issues such as heart and respiratory problems. The importance of good dental health to improve overall health is becoming better known. People who do not receive treatment for gum or periodontal disease are endangering their overall health because the infection can spread to the rest of the body through the bloodstream. To learn more about the dangers of gum or periodontal disease and the benefits of the LANAP dental surgery, visit http://www.sandiegogumsurgery.com.
Coleman Center For Cosmetic Dentistry is a general practice offering patients personalized dental care for Poway, CA. Dr. Paul Coleman received his undergraduate degree in Biology from Colby College in Waterville, Maine. He then attended Tufts University School of Dental Medicine in Boston, Massachusetts. Dr. Coleman is part of one percent of dental professionals providing the most recent FDA-cleared laser procedure for gum disease and periodontal treatment. To learn more about Coleman Center For Cosmetic Dentistry and their dental services visit their website at http://www.sandiegogumsurgery.com.
# # #