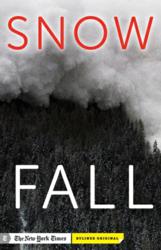 Snow Fall marks the beginning of a co-publishing collaboration between The New York Times and Byliner
San Francisco, CA (PRWEB) December 21, 2012
Co-published today by The New York Times and Byliner, Snow Fall, by celebrated Times reporter John Branch, is the harrowing narrative of a group of world-class skiers caught in a deadly avalanche in Washington State. The e-short expands significantly on an article just released on NYTimes.com and is available for purchase for $2.99 at all the major digital bookstores.
When sixteen of the country's best skiers and snowboarders headed to a renowned out-of-bounds ski area in Washington last winter, they were aware of the high risk posed by avalanches. Still, they took the deadly gamble—and lost. As Branch writes, "the very thing the skiers and snowboarders had sought—fresh, soft snow—instantly became the enemy." In less than a minute, Tunnel Creek turned from a playground into an icy tomb.
Like the adventure classics Into Thin Air and The Perfect Storm, Branch's story of the Tunnel Creek avalanche follows the seemingly innocuous events and missteps that carried its victims ever closer to tragedy. By the time the group arrived on the mountaintop, the sense of foreboding was palpable. Unlike a storm, however, an avalanche gives no warning. What slight movement could have triggered the massive slide? It's impossible to say. With horrifying detail, Branch describes the feeling of being swept away and then buried under tons of snow and ice. Miraculously, some survived. Others did not.
Snow Fall is the first in a series of e-shorts co-produced by The New York Times and Byliner. These Originals, ranging between 10,000 and 20,000 words, are written to be read in a single sitting. Among future contributors to the Times-Byliner collaboration will be Pulitzer Prize winner David Leonhardt, Washington bureau chief of the Times, and Pulitzer winner James B. Stewart, business columnist for the Times and the author of the bestselling Den of Thieves.
ABOUT THE AUTHOR: John Branch is a reporter for The New York Times. He has covered stories big and small, from the Super Bowl and the Olympics to lumberjacking and horseshoes championships. His 2011 story "Punched Out," on the life and death of hockey enforcer Derek Boogaard, was a finalist for the Pulitzer Prize. He lives in the San Francisco area with his wife and two children.
ABOUT BYLINER: Byliner commissions and publishes original stories written to be read in two hours or less. These "e-short" stories are available on phone, tablet, or computer as part of the Byliner subscription service, and can also be purchased individually through digital bookstores such as Amazon, Apple's iBookstore, Barnes & Noble, Kobo, and Google Play. Bestselling Byliner titles include Amy Tan's Rules for Virgins, Margaret Atwood's Positron, Jon Krakauer's Three Cups of Deceit, Ann Patchett's The Getaway Car, Nick Hornby's Everyone's Reading Bastard, and Buzz Bissinger's After Friday Night Lights. On Byliner.com, readers get personalized access to an unmatched library of more than 20,000 fiction and nonfiction stories by the world's best writers, allowing them to easily find, read, save, and share new and classic stories by their favorite authors.
Snow Fall is available for $2.99 in Amazon's Kindle store, as a Quick Read at Apple's iBookstore, a Nook Snap at BarnesAndNoble.com, a Short Read at Kobo, and at Google Play. For an Advance Reading Copy or to schedule an interview with John Branch, please contact Clare Hertel at clare(at)byliner(dot)com; 505-474-6783 or Danielle Rhoades Ha at Danielle(dot)Rhoades-Ha(at)nytimes(dot)com; 212-556-8719.
###