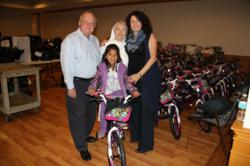 (PRWEB) December 26, 2012
Amerijet's 300 + agents, employees and sales people representing every state and most countries worldwide gathered for Amerijet Holdings Annual Global Conference at the Sheraton Miami Airport Hotel & Executive Meeting Center.
Amerijet has earned an international reputation as the "Global Source" for transportation solutions by delivering seamless worldwide transportation by road, rail, sea and air for individuals, emerging businesses and Fortune 500 companies.
"In an effort to maintain our lead in the industry, this year's annual conference focused on superior customer service, team building and enriching our communities. Our goal is to be known as the best company to do business with and to lead the industry as the best place to work," said Amerijet founder and CEO, Dave Bassett.
"A bike build off team building exercise was conceived for Gift Giving for the Holiday Season. Amerijet's global affiliates were grouped into 30 teams and faced with the task of assembling 30 (18") Monster High youth bikes and training wheels from scratch. Once assembled, these bikes were donated to deserving youth at the Prestige Club's Hope Outreach Center. Polly Wilke founder of Prestige Club was at the conference to receive the bikes along with Beth Azar and Sister Germana from the Hope Outreach Center. JBS Communications, AT&T, and AT&T Wireless partnered with Amerijet to purchase the bikes to support charity. This event aligned Amerijet's continuing commitment to give back while providing the best customer service.
Kandee G, author, speaker, host of Nothing But Good News Radio, magazine publisher and Amerijet's very own vision coach/mentor will be the mistress of ceremonies for the Global Conference and will lead the "Bike Build Teamwork Initiative." Kandee G says, "I have seen this company really soar in the past six and a half years as we have worked together on Amerijet's Vision Program to shift its culture to spotlight "unparalleled customer service," with a focus on the company's vision, values, leadership, and operations. We created the charity based Bike Build team exercise to increase corporate success by encouraging participants to feel like a meaningful contributor to the larger whole. They'll learn to take the initiative to go above and beyond to accomplish team goals while enjoying working together to contribute to a meaningful cause. The program is designed to build participants trust, problem solving and communication skills, which will transfer to their success in the workplace."
Dave Basset said, "In Amerijet's continuing efforts to give back to the communities we serve, I am proud and honored to have one of our team building exercises benefit a local charity for underprivileged children."
The Annual Global Conference focused on Amerijet's principles of trust, value, and customer experience with speakers and interactive workshop sessions on how to "Be Phenomenal or Be Forgotten: Consistently Exceeding Expectations," "The Customer Experience," "The Bike Build Teamwork Initiative for Charity," "The Star Service Awards," 'The Executive Leadership Panel," and "Return to Optimism."
About Amerijet:
Amerijet has earned an international reputation as the "Global Source" for transportation solutions by delivering seamless worldwide transportation by road, rail, sea and air for individuals, emerging businesses and Fortune 500 companies. In an effort to maintain its lead in the industry, this year's annual global conference focused on "Superior Customer Service." Amerijet's professionalism and the "value" its customers have come to expect are the hallmarks of its award-winning formula for success. Amerijet provides specialized equipment, worldwide warehouses, customized services and state of the art technology, tracking, safety, and security, while maintaining the highest level of quality to satisfy all international requirements, and personalize every customer's needs. Amerijet's primary goal has always been, and will always continue to be, developing long-term relationships with customers by providing first-class service, equipment, and facilities. Amerijet's dedication to quality service and its entrepreneurial spirit motivate the company to constantly seek the best methods of providing optimal service to its customers and to maintain excellence in its staff.
For more information contact: Amerijet MEDIA CONTACT Christine Richard at 954-320-5354 or visit the web: Amerijet.com
About the Prestige Club
Prestige Club is a not for profit 501c (3) organization, established in 1996. It's is an umbrella for 21 charities that benefit underprivileged children in Broward County. It assists towards the growth and development of our society. Its purpose is to encompass a networking group of business leaders and help promote their services and skills to the community while at the same time organizing various fundraising, charity, and educational events towards the advancement of people less fortunate. Prestige is an organization that offers love, compassion, support, and assistance to families and children in need. Polly Wilke is the founder and driving force behind the Prestige Club's success. 954-617-6210 pwilkie(at)CBBFLA(dot)com, Prestigeclub.org
About the Hope Outreach Center:
The Hope Outreach Center is a member of the Prestige Club. They provide food for the pantry. Beth Azar and Sister Germana are the contacts for Hope Outreach Center located at 4700 SW 64th Ave # A Davie, FL 33314. (954) 321-0909 Hope Outreach Center, Inc.