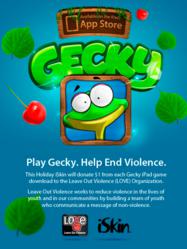 Now kids who play Gecky will be helping youth around the world who face violence in their everyday lives
Toronto, Ontario (PRWEB) December 21, 2012
iSkin, a premium brand of fashion and technology lifestyle accessories, has announced that the company will be using their popular iPad® video game Gecky to raise funds for the charitable organization, Leave Out Violence (LOVE). For every purchased download of Gecky, iSkin will donate $1 of its earned profits to LOVE.
Gecky has already received thousands of downloads and an honorable mention from Adobe Gaming when it was released earlier this year.
"It is always gratifying to be able to help those in need, especially those with the smallest voices or those who can't speak for themselves. Now kids who play Gecky will be helping youth around the world who face violence in their everyday lives" says Andrew Ackloo, the CEO of iSkin.
About Gecky
Designed for kids of all ages, Gecky is a fun and exciting game that follows the adventurous path of a displaced gecko who navigates the treetops of the jungle collecting morsels, avoiding falls and being caught by a hungry owl. Game players work against distance and speed in order to attain the highest score.
About Leave Out Violence (LOVE)
Leave Out Violence (LOVE) is an award winning, not-for-profit, grassroots youth organization that is an effective means of reducing bullying and other forms of violence in schools, neighborhoods and homes worldwide. LOVE is ending violence — one youth, one school, one neighborhood at a time.
For more information on Leave Out Violence (LOVE) please visit: http://www.leaveoutviolence.com/ or visit http://lovewired.org/ to see the student blogs.
Gecky can be downloaded for $1.99 for the Apple® iPad of all generations via the App store, or by clicking on the link http://www.geckygame.com.
About iSkin Inc.
iSkin Inc. has been one of the world's most trusted mobile accessory brands since its first advanced protective solution for the iPod® in 2002. Known for its cool, innovative designs and fashion-forward style, iSkin continues to be the leading mobile accessory brand. iSkin continues to focus on delivering the highest quality, innovative design and fashion-forward style in accessories for Apple®, BlackBerry® and now Samsung®.
The iSkin word mark and logo are registered trademarks of iSkin Inc., registered in Canada, the United States and other countries. All Rights Reserved 2006-2012. Apple® and iPad® are trademarks of Apple Inc., registered in the U.S. and other countries. Other company and product names mentioned herein are registered trademarks of their respective companies.
For further information, please contact:
Press(at)iSkin(dot)com
http://www.twitter.com/iSkin
http://www.facebook.com/myiSkin