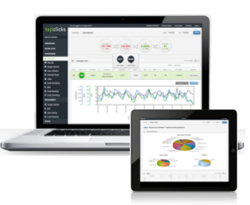 Now there is absolutely no reason for marketers and advertisers to fly blind across the digital-marketing landscape.
Cupertino, CA (PRWEB) December 21, 2012
TapClicks, the digital presence company, today unveiled its powerful new TapClicks Analytics 2.0 Platform, the new industry standard for digital-marketing analytics and campaign-performance dashboards.
With this new release, digital marketers now have real-time alerts, comprehensive marketing scorecards and precision analytics at their fingertips to answer critical questions about their marketing efforts:

Are desirable customers clicking on my banners?
Are the email newsletters we send being opened and read?
Are people saying damaging things about the business?
Are we showing up prominently on the search engines?
Are people finding us on Facebook and Google+?
Do our customers share us with their social networks?
The TapClicks Analytics Platform pulls real-time performance metrics from Google Analytics, Bing and Google search-engine marketing, all major ad servers, reputation monitoring and email-newsletter platforms.
Local media companies, digital agencies and agents, corporate marketing teams and small-businesses are the most immediate beneficiaries of the new platform. The TapClicks dashboards have both an agent view across all clients and a specific dashboard that the client uses to track success.
These real-time and actionable insights enable marketers to find and flag poor-performing marketing campaigns and move under-performing resources into more effective alternatives. As a result, marketers and their agencies squeeze the maximum return on investment from every dollar spent for every client under management.
The new platform -- built in the cloud after extensive user testing, code optimization and quality control -- takes the TapClicks analytics platform far beyond anything available in the marketplace. "If you listen to the market, if you live with your customers and understand their challenges, you have the chance to discover magic. Which is precisely what happened with this new release," said Babak Hedayati, CEO of TapClicks.
TapClicks 2.0 includes numerous advanced features, including:
A notification system to flag major changes in campaign performance
Unique scoring and "Scorecard" with insightful performance metrics across campaigns
HTML5 support for cross-device functionality (tablet/mobile/web)
Enhanced permission settings with 4 levels account access (from agent to business owner)
Plus numerous performance upgrades:
Flat hierarchy, improved navigability, reduced clicking and faster time-to-information
Upgraded AJAX dashboard to improve chart rendering
Upgraded grid system displays charts within grid for better user experience
Multiple charts open simultaneously for better direct comparison
Optimized database for more efficient big-data storage
Creation of SQL triggers and stored procedures to create summary tables
Improved caching system and other improvements to maintain high-speed response times.
And, of course, much more!
About TapClicks
TapClicks was founded in 2009 to help our customers launch their comprehensive digital presence and manage it with actionable analytics. Our team brings together deep expertise in technology, media, marketing, advertising, social media, gaming, e-commerce and mobile applications.
We seek to build partnerships with agencies and media companies to grow revenue and profitability with our white-label solutions. TapClicks have offices in Silicon Valley, Canada, India and Mexico.
For more information, visit http://www.TapClicks.com or send an email to info(at)TapClicks(dot)com.