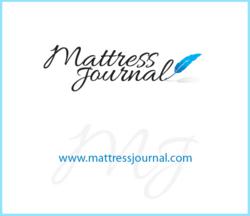 Tempe, AZ (PRWEB) December 21, 2012
New bed and sleep news blog Mattress Journal launches to provide consumers an efficient buying resource with reviews, news, buying guides, tips and more.
As the name suggests, the blog intends to utilize a journalistic perspective, offering well-researched and impartial information. The primary focus will be on mattress types and brands, though bedding, sleep tips, and industry news will make occasional appearances to provide a well-rounded resource.
As an example of the topic material Mattress Journal will cover, their first post is titled "Research Tips for Finding the Best Mattress." In this post, the blog provides essential steps for consumers in the buying process designed to aid shoppers. Suggestions include where to look, how to keep organized, and tips for finding the best deals. The point expressed is that a little research can go a long way to improving purchase satisfaction, something many people will find relevant.
The blog itself features an easily navigable, clean appearance that readers are sure to appreciate. Main categories feature prominently on the top navigation bar, with sections for latest posts, popular tags and posts archived by date. Its responsive design means the website offers the best possible user experience across a spectrum of devices from widescreens to mobiles.
Currently, readers can connect with Mattress Journal via Twitter and comments, and subscribe to get new post alerts. Additional interactive features are in the works, to possibly include polls, surveys, and video content depending on readership reception. Topics the blog intends to cover in the near future include reviews on brands like Tempurpedic and Serta, and guides for choosing memory foam and latex mattresses.
MattressJournal.com offers the latest bed news and mattress reviews to help shoppers research purchases and get the best sleep possible. Through careful, independent analysis of mattress types, brands, and sleep research, the blog offers expert opinions in readable, relatable format. With a focus on making the buying process simpler, Mattress Journal proves a valuable resource for consumers.