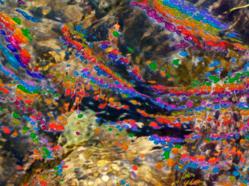 Nancy Mooslin's painting...involve a visual interpretation of music.
Aliso Viejo, CA (PRWEB) December 22, 2012
"Layered Cadences - Four Artists" is now open at Founders Hall Art Gallery at Soka University in South Orange County, CA.
Carolyn Buck Vosburgh, Sandy Abrams, Nicola Lamb and Nancy Mooslin, the four artists in the exhibition "Layered Cadences," may have different conceptual and formal approaches to art making, but their work has a common thread. Each artist, true to her own thinking, uses materials and techniques to arrive at finished art pieces that have an aesthetic connection to rich surface and visual rhythm.
Through her process and use of symbolic imagery, Carolyn Buck Vosburgh's drawings and wall installations, make lyrical reference to the intertwinement of time and place as a part of human experiences.
As a fiber artist, Sandy Abrams playfully uses stitchery and textile techniques in her two and three-dimensional art pieces to enhance the flat surface of a digital image or to create hybridizations of organic forms.
Nicola Lamb's minimalist paintings are visually lush surfaces that hold the history and visible trace of forms captured in the rhythm of the paint as it is applied, moved and manipulated.
Nancy Mooslin's paintings, as well as her video work, involve a visual interpretation of music. By using layers of lyrical color, she translates the harmonic sounds of complex forms of music into a visually rich experience for the viewer.
Founders Hall Art Gallery is located at 1 University Drive, Aliso Viejo, CA. The Gallery is open M-F from 9 am - 5 pm and admission is free. Map and directions
-----
About Soka University:
Soka University is a private, four-year liberal arts college and graduate school located on 103-acres in Aliso Viejo, CA. The university is ranked in the top 7 liberal arts colleges in California and Oregon by US News and World Report's "Best Colleges 2013." Soka University offers a 9:1 student/faculty ratio and study abroad for every undergraduate student. Founded upon the Buddhist principles of peace, human rights and the sanctity of life, SUA is open to top students of all nationalities and beliefs. About half of Soka University's students come from the US and half from more than 40 other countries. Admitted students whose annual family income is $60,000 or less may be eligible for Soka Opportunity Scholarships which cover full tuition. Additional scholarship opportunities are available for higher income levels. http://www.soka.edu