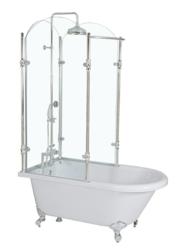 (PRWEB) December 21, 2012
With stressful jobs and hectic personal lives, many people treat their homes as a personal oasis of style and comfort. There may have been a time when that feeling ended at the bathroom door, but not anymore. The style-watchers at BathsofDistinction.com say there are three major bath and tub trends to look out for in 2013:
-Making the most of the space you have with high-quality tubs that do double duty. Perhaps because of limited room or time, furnishings which serve more than one purpose are in demand right now. One example, the Oasis Glass Shower Tub, is a hybrid of a shower and a tub with a glass enclosure. Baths of Distinction owner Bill Hamilton says the design is exclusive to his company and was inspired by a similar tub that was produced in England around 1880. "Everyone who has visited our showroom stops and stares at it. It looks so cool," he says. "The first client to see it bought one."
-Modern convenience coupled with vintage design. Borrowing inspiration from Victorian times consumers are rediscovering the charm of designer clawfoot and pedestal tubs. The simple elegance and sturdy workmanship of the Old Hotel Designer Collection at Baths of Distinction, for example, evoke feelings of a bygone era.
-Making it uniquely yours by adding special finishes. These days consumers have many more choices in finishes, but some of them opt for retro-styling in this area. They are finding a range of specially prepared and handmade finishes, such as those in Baths of Distinctions "Penhaglion" line, which offer a sturdy cast iron finish.
There's no need to pay an arm-and-a-leg for special tub and bath designs. Savvy shoppers will find that many of these ideas are affordable and can even save you money in the long run. Hamilton says, "We do some really cool finishes that no-one else really offers, unless at 2 to 3 times our price."
About the Company:
Baths of Distinction provides high-quality clawfoot and pedestal bath tubs. It is an industry authority on the subject of vintage-inspired tubs and fixtures with experts who can bring your vision to life, whether it includes modern refinery or Victorian elegance. To see what Baths of Distinction can do for you, visit http://www.BathsOfDistinction.com.