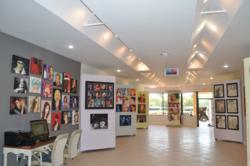 North Miami Beach, FL (PRWEB) December 21, 2012
In a continuing effort to add to the many amazing photo to canvas services, Paint Your Life has announced their latest addition. Along with the already large range of choices customers have when converting their photographs into remarkable hand painted versions, they can now choose to have a collage on canvas made from them. For those who are not familiar with what a collage is, this is a collection of numerous images that are gathered together to create a single image.
In the case of the collage based photo to canvas services offered, customers can bring in a series of photographs such as their children as they have grown over the years or perhaps a favorite vacation. The artists will then create a collage of the photos for the customer's approval before printing the final collage. This is a fabulous new way to take a collection of favorite family photographs or perhaps some from a memorable event such as a vacation or a military deployment and turn them into a single image that conveys the true meaning behind the individual pictures.
While a single picture might be worth a thousand words, a print that includes several or even several dozen photographs artfully arranged will create a memory that will last a lifetime and may leave customers speechless. There is any number of different ways to lay out the customer's photographs to form the collage, limited only by the number of photographs as well as the imagination and creativity of both the customer and the artist in charge of create it.
Whether customers are looking for the perfect gift to send to family members, add to the wall of an office or simply create an amazing photographic memory, this new service being offered by Paint Your Life, located at 3479 NE 163rd St. North Miami Beach, Florida is sure to become one of their most popular services. Customers can now see samples of these collages hanging on the walls in the store, allowing them to see the different styles available.
Paint Your Life is delighted to be able to offer this service in addition to the many other photo to canvas services they have to offer. Using one or more of the customer's photographs, the artists will create a powerful collage that will look at equally at home in their living room or their office wall. These collages make the perfect gift for grandparents or other family members as they provide a wonderful way for others to share in your memories.
PaintYourLife.com, a world leader in personalized pop art canvas offers a wide array of picture to painting options for their customers to choose from. These can all be seen at their new location in North Miami Beach. For more information contact PaintYourLife at 3479 NE 163rd St. North Miami Beach, Florida.