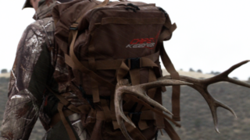 "The Wyoming antelope hunt this year was hot and dusty. We used 4 wheelers. The Cape Keeper kept my cape clean, cool, and rope burn free. I'll never go hunting again without it." -Jordan, Saratoga Springs, Utah
South Jordan, Utah (PRWEB) December 26, 2012
Avid big game hunters that didn't get what they wanted for Christmas this year can now treat themselves to their own Holiday gift. They can now pre-order the greatest new hunting accessory for people that love the outdoors.
Hunters that have lost big game capes to hair slip know how important it is to protect their trophy. Now, they have a valuable new tool to help them cool down their capes and securely transport them to the taxidermist.
The Cape Keeper has a patent-pending design that helps hunters properly cool down their capes using ice from their coolers or instant ice packs. The bag also protects the cape from dirt, rope burn, direct sunlight and other elements.  
"The thing I love about the Cape Keeper is its versatility," said Chad of Spanish Fork, Utah. "It does not just keep your cape cool and clean, it protects it in whatever you are doing. Whether it's strapping it down on horseback, on a 4-wheeler, or on a pack frame, you know your cape is going to be cool, clean, and undamaged when you get it off the mountain."
The Cape Keeper includes a hidden blaze orange safety flag and backpack straps that can be used when hunters pack out the capes themselves. It fits most big game animals, including antelope, deer, elk and even moose.  
"I used the Cape Keeper to pack out an elk this year, and it worked perfectly," said Nate from West Jordan, Utah. "I was able to use it as a backpack. It distributed the weight in all the right places. Also, the straps kept everything tight, so there was no movement making you unbalanced." 
The compression straps on the sides allow hunters to fit smaller game, and the expansion nose in the front makes room for larger animals. Cape Keeper rolls up and becomes easy to pack until needed. It cleans up quickly after each use with just soap and water and can be used over and over again.
Cape Keeper is in the final stages of production and has partnered with the crowd funding site Indiegogo to raise the remaining funds needed for production. The campaign only has 15 days left to reach its goal of $35,000, so those interested in getting their hands on a Cape Keeper must pre-order now. They´ll join a select group of people that have already enjoyed the benefits of this innovative new hunting bag.
"I used the Cape Keeper for the first time in 2012. It performed flawlessly!" said Greg of Bluffdale, Utah. "It's definitely part of my hunting gear."