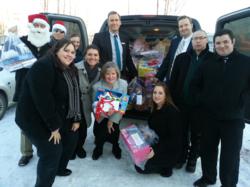 (PRWEB) December 21, 2012
The Embassy Suites Anchorage hotel, among three other Stonebridge Properties guests and staff gave back to those in need this holiday season. Stonebridge Companies Anchorage properties, The Hilton Garden Inn, Hampton Inn, Homewood Suites, and Embassy Suites of Stonebridge Companies help disadvantaged children have a meaningful Christmas this year. All four hotels donated an array of gifts for children to open on Christmas Day. For the past few weeks, the hotels have encouraged guests and staff alike to donate gifts to the angel Christmas tree situated in the hotel lobby. Their success brought in enough presents to fill Santa's sleigh and then some. This donation drive is a bigger success than it was last year, so congratulations to both guests and staff alike!
Located in mid-town Anchorage, Alaska just a few miles from Ted Stevens International Airport, The Embassy Suites among other Stonebridge Properties in Anchorage provide a convenient stay for all guests. Each hotel offers amenities such as free wireless internet, business centers, fitness centers, and flexible meeting spaces. For more information or reservations, contact the Embassy Suites Anchorage hotel directly at 907-332-7000, or visit each hotels' website: The Embassy Suites, Hampton Inn, Homewood Suites, and Hilton Garden Inn Anchorage, Alaska hotels are proudly managed by Stonebridge Companies in Denver, Colorado.
Founded in 1991 by Navin C. Dimond, Stonebridge Companies is a privately owned, innovative hotel management company headquartered near Denver, Colorado, which has developed over 60 hotels and operated more than 75 lodging properties. Currently, Stonebridge Companies is operating 42 hotels and developing 8 others comprising in excess of 7,000 guest rooms in Alaska, Arizona, California, Colorado, Nevada, New York, Utah, Virginia and Washington. The diverse portfolio includes select-service, extended stay, mid-scale and full-service hotels in primary and secondary markets. For detailed information, visit our website at http://www.SBCOS.com.