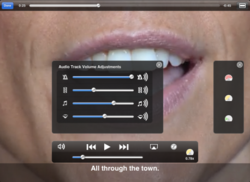 Arlington, VA (PRWEB) December 31, 2012
VAST Songs 2 – Kids is the second speech therapy app in the VAST-Songs series which integrates music with the VAST program. The VAST program is an innovative research based application of video technology designed to facilitate and improve communication abilities for speech-impaired individuals. Following close-up video of mouth movements combined with visual and auditory cues allows individuals to readily produce speech. The VAST-Songs series is a collaborative effort between the speech and music therapy professions. Many of the features and content were guided by Jenni Rook, MT-BC, LPC, who also performed the vocals. Jenni is a Neurologic Music Therapist and Clinical Director for Music Institute of Chicago's Institute for Therapy through the Arts. Speech-Language Pathologists, Darlene S. Williamson, MA, CCC-SLP and Lois Jean Brady, MA, CCC-SLP, also assisted in the development of the VAST-Songs series. Darlene specializes in aphasia and apraxia based therapy with 30+yrs of professional experience and 3+yrs of experience using and developing the VAST program in a clinical environment. Lois Jean Brady, MA, CCC-SLP is a speech-language pathologist who has 20+yrs experience specializing in therapy for children with Autism Spectrum Disorder (ASD) and is the author of "Apps for Autism" and "Speech in Action."
Singing has been used as an accepted treatment technique in speech therapy for many years. This practice originated with the awareness that many people with speech problems can sing better than they can speak: using melody and rhythm sometimes enables individuals to say words and phrases that they could not produce under other circumstances. It's also well known that music stimulates several different areas of the brain. Multiple research studies have shown that stimulating different areas of the brain results in improved speech production. The VAST-Songs series supplements these findings and principles by providing extra cuing: simultaneously hearing the song while following the oral movements. Furthermore, singing in unison with a visual model has also been demonstrated to have a positive effect on speech production when using familiar songs. The series is based on the principles of rhythmic speech cuing (RSC) and melodic intonation therapy (MIT), incorporating both rhythm and melody while stimulating memory and automatic speech with the use of familiar songs.
Key features of the apps include multiple layers of musical stimulation for individuals with motor speech disorders and the ability to adjust the tempo of each song. The apps were recorded with 4 layers of sound, each on individual tracks. Every song has a vocal melody, a piano melody, a rhythmic piano accompaniment and a metronome. The 4 audio tracks provide maximum auditory cuing, which can be gradually decreased, promoting more independence from the user. Another feature is the capacity to adjust the speed of the songs. Users can start at a pace that suits their current capabilities and gradually increase the speed over time.
Megan Sutton of ADVANCE Magazine's "Speaking of Apps" blog had the chance to experiment with the new VAST Songs series and wrote about it in a recent blog.
"I love how you can now turn the vocal track down to allow a client to sing on their own with the video and/or text cues. The new and improved video player puts all four audio tracks (metronome, rhythmic piano accompaniment, piano, and voice) in your control, while maintaining easy access to adjust captions and tempo during independent use. The new app tutorial suggests starting with the slowest tempo, then removing the captions and auditory tracks from the bottom-up to increase independence. The app allows for greater intensity of practice in singing, a skill frequently preserved in patients with aphasia." – Megan Sutton
Click here to learn more about the VAST-Songs apps and other SpeakinMotion apps.