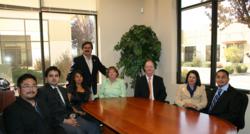 Immigration from a taxation perspective is an important part of any tax professional's practice from the RTRP, EA, CPA and to attorneys.
Salinas, California (PRWEB) December 24, 2012
RTRP Continuing Education should always include new IRS updates. The Internal Revenue Service has announced updated procedures to strengthen the Individual Taxpayer Identification Number (ITIN) program requirements. The new modifications and documentation standards further protect the integrity of the ITIN aplication process and strengthen the refund process while helping minimize burden for applicants. Some of these procedures may be included in the new RTRP Exam.
ITINs play a key role in the tax administration process and assist with the collection of taxes from foreign nationals, nonresident aliens, and resident aliens who have filing or payment obligations under U.S. law. Designed specifically for tax administration purposes, Individual Taxpayer Identification Numbers (ITIN)] are only issued to people who are not eligible to obtain a Social Security Number. RTRP Continuing Education should include training on this important matter.
Carlos C. Lopez, EA the Executive Director of Latino Tax Professionals Association says "The IRS will maintain these new standards, however, they IRS understands there will need to be modifications to the new standards as tax preparers, the taxpayers who need ITINs and Certifying Acceptance Agents get familiar with the new standards."
Latino Tax Professionals Association is dedicated to serving the paid professional tax preparer who need this RTRP Continuing Education and RTRP Exam Prep Courses.
For more information go to http://www.latinotaxpro.org