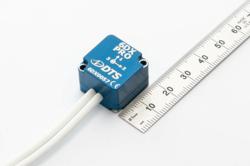 "Nothing else comes close," says Steve Pruitt, president and co-founder of DTS.
Seal Beach, CA (PRWEB) December 21, 2012
They may be called crash test dummies, anthropomorphic test devices (ATD) or test mannequins, but now they all have a new sensor designed for biomechanics testing to improve safety on everything from cars and airplane seats to amusement rides and parachutes.
The new DTS 6DX PRO is the world's smallest, high-shock 6 degrees-of-freedom sensor package. Designed for applications measuring high rates of shock and angular velocity, the DTS 6DX PRO packages three accelerometers (2000 or 20000 g) and three angular rate sensors (18000 or 50000 deg/sec) in a compact, rugged enclosure that is less than 3/4 inch cubed (19 x 19 x 14.5 mm). Focused on human injury assessment testing, the 6DX PRO weighs only 12 grams, is shock rated to 20000 g and it is sealed, making it ideal for cadaveric work.
"DTS has helped collect data from mannequins in jetliner and helicopter crash tests, from a stunt high diver plunging over 10 meters into only 300 mm of water, from rodeo riders, aerobatic pilots, cadavers and many more unique, human injury related applications," says Steve Pruitt, president and co-founder of DTS. In its 20 year history, DTS products have been used in most every kind of human injury related testing imaginable, including blast-induced traumatic brain injury (TBI). It has also led to development of a complete line of high-performance data recorders and sensors. "Nothing else comes close," says Pruitt confidently.
The 6DX PRO is calibrated and meets NHTSA, FAA, ISO 6487 and SAE J211 practices. For detailed specifications on the 6DX PRO, please visit http://www.dtsweb.com or contact sales@dtsweb.com.
About DTS: Diversified Technical Systems manufactures data recorders and sensors that are used worldwide in crash, blast and biomechanics testing performed by top automakers, aerospace, the military and leading research facilities. A DTS helmet smart-sensor that records head motion in an effort to improve soldier safety and reduce traumatic brain injuries was named by the U.S. Army as one of "The Greatest Inventions." DTS was named on the Inc. Magazine 500/5000 list as one of the fastest growing private companies in 2009 and 2012. Based in Seal Beach, California, DTS has technical centers in Michigan, Australia, China, Germany & Japan. http://www.dtsweb.com