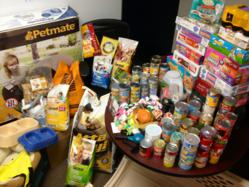 "We are so delighted to receive these donations because there is always such a huge need for the orphaned dogs, cats, and critters in our care"-Seattle Animal Shelter Manager Kara Main-Hester
Seattle, Washington (PRWEB) December 21, 2012
Nytec, Inc., a Redmond based engineering firm is proud to announce the great success of their first pet food drive benefiting the Seattle Animal Shelter. From the generous donations of their employees, the firm collected an impressive 531 cans of dog and cat food, 19 bags of food equaling 130 lbs., pet shelters and other assorted supplies. The estimated value of all donations totals almost $1500.
"Our employees really embraced giving back and the results are overwhelming" says Marketing Coordinator Alexandra Dorsett, "We are so overjoyed to be able to come together as a team and extend our company philosophy of compassion to shelter pets during the holidays, as well as promote a great cause."
The Seattle Animal Shelter is an organization that is special to Nytec. All donations were collected in memory of "Piglet", a small Maltese that was the companies' unofficial mascot for years. Piglet sadly passed away in September and this was the employees' way of remembering their furry friend. The holidays can be a tough time for shelters and Nytec is proud to assist with the non-profit's mission of helping 6,000 area animals a year.
"We are so delighted to receive these donations because there is always such a huge need for the orphaned dogs, cats, and critters in our care" says Seattle Animal Shelter Volunteer Program & Fundraising Manager, Kara Main-Hester.
Over 150 employees made donations, and in return received a raffle ticket for each item. The winners were announced December 14th, at the annual company-wide holiday party. Based on the success and positive reactions of the charity drive, Nytec plans to make it a yearly event. The company is already involved with various charities and is excited to add this to their corporate outreach program.
For more information on how to become involved with the Seattle Animal Shelter please visit http://www.seattleanimalshelter.org
About Nytec, Inc.
Founded in 1975, Nytec is an industry leader in providing engineering services with a high degree of global experience and unparalleled talent. Nytec's features and services include: hardware/software test & development engineers, hardware technicians, audio/video test, RF test engineers, benchmark testing, lab management, LabView development, IT support staff, HALT/HASS testing, and product development from R&D and proof of concept to manufacturing. Headquartered in Redmond, WA, Nytec has forged tight partnerships with leaders in cutting edge technology and their experienced team of engineers and technicians have been involved in multiple groundbreaking projects. For more information please visit http://www.Nytec.com or call 425.968.5715.
About the Seattle Animal Shelter
The Seattle Animal Shelter is open Wednesday through Sunday, noon to 6 p.m. for adoptions, donations, and licensing. It is located at 2061 – 15th Ave. W. The phone number is (206)386-PETS(7387). Learn more at http://www.seattleanimalshelter.org