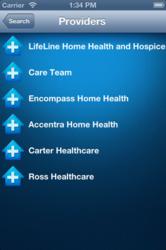 The Home Healthplex app frees clinicians from their desks and the confines of the office, and allows them to search for home health agencies on the fly
Chickasha, Oklahoma (PRWEB) December 21, 2012
Case managers, RN's, and other clinicians are finding a new solution when searching for home health agencies to accept their patients. Home Healthplex is the growing trend that many clinicians are turning to. Home Healthplex is a free app available on the Apple App Store and the Google Play Store.
The Home Healthplex app frees clinicians from their desks and the confines of the office, and allows them to search for home health agencies on the fly. This is especially helpful when the search needs to be done under sometimes unreasonable time frames.
Home Healthplex also has another side that home health agencies are seeing as marketing gold. These agencies can visit http://www.homehealthplex.com and input information about their companies that the clinicians will view. The cost of this service on the home health agencies is minimal, and drives more traffic to their agency.
The ratings that are coming in for the app are oustanding. This is paramount for RN's or case managers, and it shows that the app is working. Sammy D rates this app on Google Play and says, "This app has made my day so much easier. Nurses everywhere need to download this. It will change your life."
With the holidays quickly approaching many patients are looking forward to spending time at home with their families. This equates to less time that clinicians will have to find a home health fit. This app takes the guess work out of the search and gets the patient with the right agency in a time frame that will be pleasing to all parties involved.
Home Healthplex CEO Cody Turpin was reached for comment and states, "The Home Healthplex team is grateful for the amount of support recieved from the Healthcare community. The company recognizes the need for this application and website, and Home Healthplex is ready to meet that need."