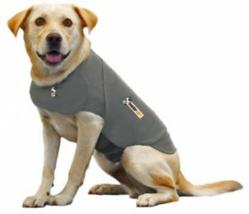 loud noises and late celebrations can cause anxiety in our pets
Durham, NC (PRWEB) December 26, 2012
Before welcoming 2013 with a bang, Thundershirt is reminding all pet parents that parties, loud noises and fireworks to celebrate the New Year can increase anxiety and uneasiness among pets. Unfamiliar guests, festive decorations and common New Years noisemakers can lead to scared, or erratic behavior in animals. For pets prone to noise or crowd anxiety, Thundershirt provides an effective, simple solution.
With its patent-pending design, Thundershirt's gentle, constant pressure has a dramatic calming effect for dogs and cats if they are anxious or fearful. Anxiety experts believe that pressure has a calming effect on the nervous system and releases calming hormones like endorphins or oxytocins.
"Many times we can get so wrapped up in celebrating or entertaining, that we tend to not realize how loud noises and late celebrations can cause anxiety in our pets," said Thundershirt founder, Phil Blizzard. "Even if a pet is not usually prone to anxious or erratic behavior, a change in their schedule or something out of the ordinary like a New Year's party can make them uncomfortable."
Since 2009, the Thundershirt has been reducing anxiety among hundreds of thousands of dogs and cats around the world. The company has conducted extensive research on the prevalence and effects of pet anxiety.
Thundershirt also provides some additional tips to keep in mind as we celebrate 2013:

Create a safe place for your pet to go during a party; this may be a crate or separate room with something familiar like a favorite blanket, toy or bed.
Be mindful of noisemakers and decorations in your pet's reach. Many of these resemble some of your pet's favorite toys, but if ingested can be extremely harmful.
Do not bring your pet to any firework or parade-like festivities; sticking to their normal routine as much as possible will be best.
The day of the festivities, take your pet out to get plenty of activity and exercise, this, in addition to Thundershirt will help them stay calmer once the festivities begin.
Don't forget ID's! Make sure your dog or cat has proper identification. If for any reason your pet escapes and becomes lost, a collar and tags and/or a microchip is key.
For more information about the Thundershirt, or to request a product sample or interview with company founder, Phil Blizzard, please contact Kerry Sutherland at K. Sutherland PR, Kerry(at)ksutherlandpr(dot)com or 949-328-4895.
About Thundershirt
Founded in 2009 in Durham, N.C., Thundershirt's mission is to bring relief to the millions of dogs, cats and their families struggling to cope with anxieties. The Thundershirt is designed to apply a constant, gentle pressure to a dog or cat's torso creating a dramatic calming effect for most users. Thundershirt continues to investigate dog and cat anxiety and fear issues with scientific-based studies and surveys from recognized veterinarians and pet owners. Thundershirt has already helped hundreds of thousands of dogs across the country and around the world.
The company also donates thousands of Thundershirts and funding to rescue groups and shelters to help these organizations manage their anxiety cases and find permanent homes. Thundershirts are sold online at http://www.thundershirt.com and by retail stores, veterinarians, trainers and kennels across the country.
Online: thundershirt.com
Facebook: facebook.com/Thundershirt
Twitter: @Thundershirt
Pinterest: pinterest.com/Thundershirt