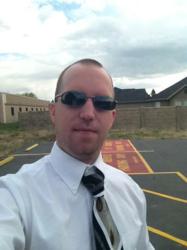 In this day and age it is crucial to have qualified and certified individuals managing and directing your information security
Salt Lake City, Utah (PRWEB) December 21, 2012
Philip Granere has been working for leading technology firms for over 17 years, and just this last year obtained his Certified Ethical Hacker certificate as well.
"I'm very excited to have this certificate. In this day and age it is crucial to have qualified and certified individuals managing and directing your information security," said Phil Granere.
The push for this credential is also coming from the U.S. Department of Defense 8570.1 Directive, which requires all government and contract employees working on DoD IT projects to carry an approved certification for their particular job classification.
CISSP certification is usually for mid and senior management IT security positions. This certification is offered through (ISC)2, the not-for-profit consortium that offers IT security certifications and training.
"This was not an easy exam. You must possess a minimum of five years of direct full-time security work experience in two or more of the 10 (ISC)2 information security domains (CBK), and agree to abide by their codes-of-ethics and policy for continuous education. In addition, they need to pass the exam with a scaled score of 700 points or greater out of 1000 possible points. The exam is multiple-choice, consisting of 250 questions with four options each, to be answered over a period of six hours," said Phil Granere.
More about Phil Granere
Salt Lake City resident, Philip Granere attended the University of Denver where he graduated in 2001 with a degree in information technology. Phil Granere currently works as an IT Manager for a leading information technology firm. Phil Granere has worked in the information technology industry for about 17 years. In addition to working for a reputable technology firm, Philip Granere owns and runs a Web hosting firm, Streamline Internet Solutions as well as an automobile enthusiast website My-Mods.com geared for highly modified vehicles.
Phil Granere is a proud father of two children, both of whom have special needs.
"Even though i enjoy staying busy with work, I love my family, and at the end of the day, family means everything," said Phil Granere.
Phil is currently working on obtaining his CISM certification. (Certified Information Security Manager). "This will be the next chapter in my career, so i feel it's important to obtain this certification," he said.