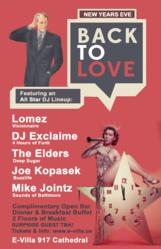 Last year was so much fun. Everyone danced all night long.
Baltimore, MD (PRWEB) December 21, 2012
E-Villa, one of Baltimore's sexiest Nightlife spots, will host what is said to be one of Baltimore's sexiest dance parties as they have gathered some of Baltimore's hottest DJ's from some of Baltimore's biggest dance parties. "Last year was so much fun, everyone danced all night long," says E-Villa manager Kim Bury. Last year New Year's Eve party featured Thunderball of Fort Knox Five and the East Coast Boogiemen. This year should be just as exciting. This year's New Year's Eve line up consist of the following DJ's: Lomez (Visionnaire), DJ Exclaime (4 Hours of Funk), Joe Kopasek (Buzzlife), & Mike Jointz (Sounds of Baltimore). DJ's will be spinning on both floors throughout the night.
Along with great music, expect an open bar (9:30 – 10:30), complimentary dinner & breakfast buffet, champagne toast at midnight, a great atmosphere, and a friendly staff.
E-Villa is located in Baltimore's historic multicultural Mt. Vernon neighborhood in Midtown. E-Villa has attempted to join the ranks of some of its successful counterparts in the neighborhood such as Red Maple, Brewers Art, XS, Eden's Lounge, and others. Mt. Vernon hosts some of Baltimore's favorite lounges, restaurants, nightclubs, and bars.
E-Villa is a two-story row house that has been converted to a bar. With its brick walls, colorful lighting, interesting art, base-driven sound system, friendly staff, and intimate atmosphere, E-Villa is quickly becoming a hot spot in Baltimore. "Some customers that used to come here years ago told me this was a Speak Easy and everyone wanted to be here," says E-Villa bartender Katie. E-Villa does have a Speak Easy feel to it. It looks like you are walking into a row house, then when you get upstairs; customers are eating, enjoying cocktails and hookah, and dancing. E-Villa is somewhat small though. "It allows us to keep it exclusive," says owner Helen Metaferia.
To purchase New Year's Eve Tickets, click here. They are only $15 in advance. On Facebook, they are saying this is the best deal in town. For table reservations, call 410.244.5122.
E-Villa, opened 2011, is located in the heart of Mt. Vernon, Midtown Baltimore. E-Villa boasts very tasty appetizers and entrees, including Ethiopian & Latin influenced entrees. E-Villa has also become known for it's happy hours and bringing international deejays. E-Villa is the perfect place to take a date, friends, & coworkers. For more information about E-Villa, go to http://www.e-villa.us or call 410.244.5122.
Address: 917 Cathedral St. Mt. Vernon, Baltimore, MD 21201
Phone: 410-244-5122
Website: http://www.e-villa.us
Email: reservations (at) e-villa (dot) us