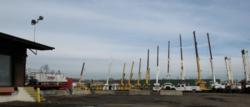 This display is our way to honor the lives of the children and the adult heroes that perished.
Philadelphia, PA (PRWEB) December 21, 2012
Thackray Crane Rental, a third generation Philadelphia family owned business, has established a memorial as part of the December 21st National "Moment of Silence" and "Day of Remembrance" for the Sandy Hook shooting victims. At 9:00 AM on Friday December 21st, twenty-six (26) mobile hydraulic cranes will be positioned side-by-side on the company's Northeast Philadelphia campus located at 2071 Byberry Road, with their tall booms stretched upwards high in the air and hanging flags to remember the victims.
"Coming from a very close knit family, we have a strong belief in our faith, in God and our Country" stated Linda Thackray, the spokesperson for the Thackray Crane Rental family and their employees. "Although we are not in the immediate Newtown Connecticut community, this horrific tragedy has touched everyone to the depth of their souls. Our hearts are broken and we have all been deeply saddened. This display is our way to honor the lives of the children and the adult heroes that perished. Our prayers are with their families and the Newtown Connecticut community."
This tribute will be visible throughout the weekend for drivers traveling in nearly every direction throughout Northeast Philadelphia's main highways near Woodhaven Road, the Roosevelt Boulevard (US Route 1 North) and Byberry Road.
The entire Thackray Crane Rental family and their employees extend their heartfelt condolences to all the families affected by this tragedy.
For additional information please contact Thackray Crane Rental's media coordinator, Gary Rosner at grosner@freshdp.com
About Thackray Crane Rental, Inc.
Thackray Crane has for over 60 years operated, rented and maintained an ever improving fleet of heavy haul tractors, trailers, forklifts, cherry pickers, Lulls, boom trucks and super high capacity mobile hydraulic cranes. As the Tri-State region's only family owned and operated crane rental company serving Pennsylvania, New Jersey, Delaware and Maryland, Thackray is known for helping some of the most recognized construction companies and contractors in the surrounding area and for performing some of the most strategic crane lifts in the region.