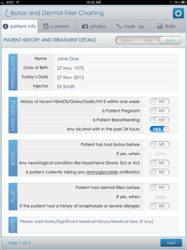 Quite simply it saves time and documents patients in a clear, concise PDF document
Atlanta, Georgia (PRWEB) December 27, 2012
Atlanta Dental Spa has released a new, one-of-a-kind iPad app designed to assist professionals who administer injectables such as Botox, Dysport, Juvederm, Restylane and more. This app is remarkably easy to use, and it helps professionals leverage the incredible power of the iPad to their advantage. It is able to streamline workloads, eliminate cumbersome paper charts and help patients understand the details of their procedures. The app is available now, and it can be purchased affordably.
Dr. Peter Boulden of Atlanta Dental Spa created the Botox and Dermal Filler Charting iPad app after becoming frustrated with the time consuming nature of paper charting and documentation. The app was designed for professionals wanting to remove antiquated methods of documentation and integrate advanced technology into their practice.
Key Facts About the Botox and Dermal Filler Charting iPad App

Allows simple gathering of patient data
Provides integration of custom consent forms and digital signature capture
Utilizes iPad's camera function to capture pre operative patient photos
Provides easy, drag and drop functionality
Calculates the number of units and number of injection sites
Generates comprehensive PDF documents that can be printed or shared with patients
Allows for custom post operative instructions
"I needed certain unique attributes for documentation when doing Botox and Dermal fillers and it didn't exist. Yes, there are apps out there that address this but none were clinically competent, in my opinion," says Dr. Boulden. "So I wanted to create an app that would be used all the time. It had to be easy to use and be customizable. I spent too much time documenting before doing a Botox procedure. I created an app that I use every day in my practice; quite simply it saves time and documents patients in a clear, concise PDF document."
About Atlanta Dental Spa
Atlanta Dental Spa provides a full range of cosmetic dental procedures and products for its patients in a luxury atmosphere. The Botox and Dermal Filler Charting iPad app has been successfully incorporated into Atlanta Dental Spa's everyday practice and has had a positive impact. The application can be purchased from the iTunes app store or from this website: http://www.botoxchartingapp.com.