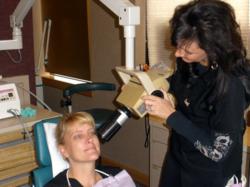 We are thrilled to have the opportunity to train students for a recession proof career that is growing by leaps and bounds.
Clinton Township, MI (PRWEB) December 21, 2012
While the country continues to struggle with economic recovery, a brand new school offers Michigan residents hope and a recession proof career. The Macomb School of Dental Assisting (MSDA) has opened a new location in Clinton Township, Michigan and will hold its first day of classes on January 5, 2013.
According to the Bureau of Labor Statistics, Dental Assisting is the third fastest growing occupation for which a college degree is not required. Further, it is expected to grow faster than the average for all occupations through 2016.
"We are excited to educate students and equip them with a rewarding career," says Dr. Tom Kachorek, founder of Macomb School of Dental Assisting. "While many industries are in decline, healthcare and dentistry are continuing to thrive. This school offers a real solution to keep our young people in the region and offer the unemployed a career that will continue to be in high demand."
Macomb School of Dental Assisting is now enrolling students. The 13-week program includes classroom instruction and hands-on training in a local dental office. Classes are Saturdays from 9 a.m. to 3: 30 p.m. and upon completion, graduates receive a Certificate in Dental Assisting. The school is located at 42490 Garfield, Suite 201 in Clinton Township, Michigan.
For more information about the Macomb School of Dental Assisting, call (586) 439-0144 or visit http://dentalassistantmacomb.com/.
The Macomb School of Dental Assisting is accredited by the State of Michigan and is approved to operate by the Proprietary Schools Act.