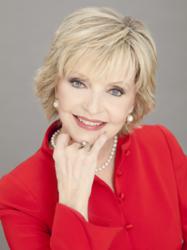 (PRWEB) December 21, 2012
LOS ANGELES (December 21, 2012) — Trinity Broadcasting Network and its exclusive Smile of a Child kid's channel announced that they will feature the award winning movie "Just Where I Belong" during Christmas week. Florence Henderson, best known for her portrayal of mom Carol Brady on the long-running 1970s ABC sit-com "The Brady Bunch," won a "Best Actress" award for the film at this year's CableFax Program Awards presentation, which recognizes the cable industry's best programming content. In addition, the movie received a Pearl Award at the International Family Film Festival.
"Just Where I Belong" tells the heartwarming Christmas story of a lonely foster child (Sophie Bolen) whose life and heart are healed through her friendship with an eccentric farm woman (Florence Henderson) and the injured rabbit the two of them nurse back to health.
CableFax called Henderson's portrayal of her character, Betsy Ross, "spot on—perhaps because she was able to pull from her own life. Henderson said her mother was a dirt-poor Indiana farm woman who raised 10 children on her own."
"Both TBN and SMILE are thrilled to have one of our exclusive family movies honored by CableFax," said Brenda Rossman, program director for Smile of a Child. "And we are excited with the opportunity to bring this high quality film to our television audiences."
"Just Where I Belong" airs on TBN Saturday, December 22, at 2:00 p.m. and Christmas Day, December 25, at 2:00 a.m. Smile of a Child will broadcast this family classic Monday, December 24, at 7:00 p.m. and on Christmas Day at 7:00 p.m. All scheduled broadcasts are Pacific Time.
In addition to Just Where I Belong, TBN has a Christmas week and beyond filled with specials, movies, musicals, and a lot more. Click here for TBN's daily holiday line-up.
"Christmas is a wonderful time of sharing for families everywhere," said TBN founder and president Dr. Paul Crouch. "We're thrilled to bring the true spirit of the season to homes all over the world with the Christmas specials we air on so many of our networks. We wish a merry Christmas to one and all this wondrous season."
Media Contact Colby May, E-Mail: cmay (at) tbn (dot) org; Tel: 202-544-5171