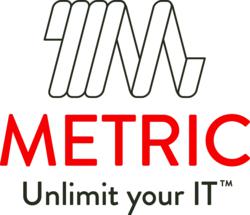 Indianapolis, Indiana (PRWEB) December 21, 2012
Spartan Technology Services LLC, a leading Indianapolis information technology services provider is pleased to announce its rebranded name, Metric IT. Metric will continue to provide high quality IT services and IT consulting for small businesses in Indianapolis, Indiana. Metric has been providing computer support in Indianapolis for over six years. Part of the rebranding effort was to signify the business impact of successful IT consulting: More productive employees, better morale, increased functionality, increased security, and peace of mind. The new logo is that of a spring uncoiling which leads to the tag line, "Unlimit your IT". Additionally, the 1930's logo and font structure was intended to correlate with the engineering background of Metric's owner Michael Semon.
Mr. Semon said, "When we added staff and developed processes to back our service delivery, we really needed a brand that matched this effort. Now, with our rebrand in place and sales staff hitting the streets, we are poised to add great customers to our small business computer support portfolio."
When asked how Metric delivered IT services, Steve Arnold of Classic Cleaners said, "Metric maximizes the performance of our technology and anticipates our IT needs before we do." Todd Mattingly of Brandt Construction stated, "Metric is committed, thorough, and honest. I can count on their customer service and turn times."
Metric is Indianapolis's preferred IT services company. Their service area includes the greater metropolitan and surrounding counties of Indianapolis, Indiana. Metric provides its IT outsourcing service to various industries including engineering, construction, financial services, and many more.
For more information on IT services in Indianapolis, please visit http://www.metricit.com.