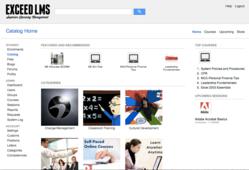 We're thrilled to be profiled by Bersin & Associates in this report. It's exciting to have another channel through which others can learn about EXCEED and how it separates itself from the crowd. - Sharon Claffey Kaliouby
Atlanta, GA (PRWEB) December 21, 2012
Intellum, a leader in cloud-based learning solutions, is proud to be profiled in the Bersin & Associates' new comprehensive research report, Learning Management Systems 2013: The Definitive Buyer's Guide to the Global Market for Learning Management Solutions, available now to Bersin & Associates WhatWorks® members and for sale to non-members. Bersin & Associates, the leading provider of research-based membership programs in human resources (HR), talent and learning, estimates global spending on Learning Management Systems (LMS) will grow 10.4 percent to more than $1.8 billion in 2012-2013 – down from the growth rate of 14.7 percent in 2011-2012. More detailed findings are included in Bersin & Associates' new comprehensive research report.
"Based on our research, we predict growth rates will be flat in 2013 (11 percent), with North America-focused providers comprising roughly 67 percent of the total global LMS market," said Janet Clarey, Senior Analyst, Bersin & Associates. "With high LMS saturation rates among larger companies, the growth will come from small and midsize companies purchasing LMSs, often for the first time. Intellum is among a few solution providers that are catering to this group, with differentiators that include its robust reporting, optimization for mobile devices, and extended enterprise learning support."
This report analyzes and compares more than 50 providers and offers in-depth profiles on 19 key players inclusive of Intellum's EXCEED. The study found that as features commoditize and providers multiply, with growing numbers of easy-to-implement Software as a Service (SaaS)-based systems and flexible pricing models, LMS buyers face an extensive number of available choices and differentiating providers grows harder even though basic functionality is fairly common.
"We're thrilled to be profiled by Bersin & Associates in this report. It's exciting to have another channel through which others can learn about EXCEED and how it separates itself from the crowd", stated Sharon Claffey Kaliouby, Intellum's VP of Market Strategy.
About Intellum:
Intellum is a privately-held company headquartered in Atlanta, Georgia. Founded in 2000, the company has over 12 years of experience providing innovative, leading-edge software to customers of all sizes and in all industry segments. Intellum's enterprise technology solutions include EXCEED, a learning management system (LMS), and TRIBE, a secure, social collaboration tool for business.
About Bersin & Associates:
Bersin & Associates is an award-winning provider of proven people strategies that leaders and their organizations need to deliver exceptional business performance. Our WhatWorks® research membership gives Fortune 1000 and Global 2000 HR professionals the research-based information and tools they need to drive bottom-line impact for their organizations.