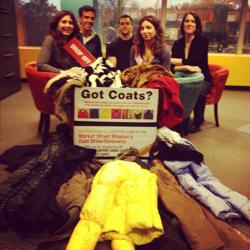 "We were happy to be able to support the annual coat drive and excited by the amount we were able to gather," said Debra Taeschler, president and CEO of GráficaGroup.
Morristown, N.J (PRWEB) December 26, 2012
GráficaGroup, a New Jersey-based integrated marketing and advertising agency that specializes in direct, strategic-based marketing communications, hosted an internal coat drive to coincide with a larger community effort. In an effort to give back to its new community – having relocated to Morristown in the spring – the agency embraced the annual coat drive being held by the local Market Street Mission.
The actual collecting of the coats turned out to be a surprising and enjoyable experience, and fellow building tenants were enthusiastic about the opportunity to help. Their donations included jackets, winter coats, raincoats, faux fur coats, skiing jackets, etc. Double-checking the pockets yielded toy cars, ticket stubs, shopping lists, and more. One coat pocket contained a $20 bill which was promptly used at a nearby department store to buy a child's jacket, and another coat sported a ton of yellow confetti, which prompted a lively discussion about parades.
For more information on the Market Street Mission, visit http://www.marketstreet.org.
About GráficaGroup
Celebrating 26 years in business, GráficaGroup is an award-winning, results-driven, multi-channel agency that enables businesses to establish and nurture lasting, meaningful relationships with their customers across all categories. Clients include Fortune 500 and mid-sized B2B and B2C companies such as AT&T, Avaya, Century 21 Real Estate LLC, Horizon Blue Cross Blue Shield of New Jersey, Jackson Hewitt Tax Service, KPMG LLP, Morgan Stanley, PSE&G, Summit Medical Group, Trane, Weichert, Realtors, and Wells Fargo Home Mortgage, as well as public sector and not-for-profit organizations. For more information, visit http://www.grafica.com.