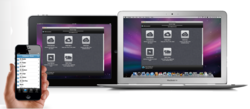 Computer backup isn't just for techies. It's for everyone who uses a computer and keeps accumulating more and more digital life.
New York, NY (PRWEB) December 21, 2012
Cirrus Thinking, makers of the award-winning Dolly Drive cloud backup and storage for Mac, have launched a backup awareness campaign over the holidays in an effort to get people who backup their computer to encourage friends and family who don't to get started. Individuals who purchase a Dolly Drive account will receive a free account to send to a friend or family member who isn't doing cloud backup. Invididuals can also send traditional gift accounts to Mac users.
"Computer backup is so easy but if you don't start it, you are at risk of losing everything on your hard drive in an instant. said Anthony Palermo, Creator of Dolly Drive. "By giving people who want to use Dolly Drive cloud storage & backup a chance to 'regift" their purchase to a friend or family member, we figure we not only give Mac fans a chance to use Dolly, but more importantly, give them the chance to be a hero when their new-to-backup friend finally needs it."
Cloud storage is also becoming more important as more people get used to using multiple computers in their lives as well as smartphone devices. A recent Neilsen report revealed that over 55% of the mobile phone market is now penetrated by smartphones, meaning more and more picture and videos are being uploaded & synced, and more employees are expecting to have access to their work files every minute they are away from their office.
Added Palermo, "Computer backup isn't just for techies. It's for everyone who uses a computer and keeps accumulating more and more digital life. At a time, we had one computer that held all of our stuff. Now people have 2 or 3 computers and multiple mobile devices. You not only need to be able to access it regardless of which computer you have, but you need to ensure that those files are safely being archived throughout your day."
In addition to the buy one, get one promotion, Dolly now offers gift cards.
Dolly Drive is an all-in-one sync, store and backup service designed for Mac. In addition to providing Mac users offsite cloud storage and mobile access to expand hard drive space, the application allows users to create a bootable clone of their Mac on an external hard drive for local disaster recovery. See more at http://www.dollydrive.com
About Cirrus Thinking
Cirrus Thinking was founded in 2009 by a pair of passionate Apple fans with the goal of delivering the critical advantages of cloud services to Apple users at the consumer, small businesses and enterprise levels. The first product Dolly Drive, an online backup solution for Apple's Time Machine launched in 2011 and was named MacLife Magazine's Best Software and Best of Show at MacWorld 2011. Cirrus Thinking has offices in New York and Miami, with data centers located in the United States and Europe.