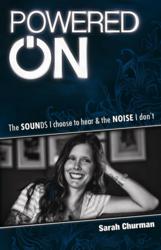 I started realizing there were others out there like me. People who longed to feel whole...
Pensacola, FL (PRWEB) December 21, 2012
Sarah Churman was born legally deaf -- 29 years later, a miracle of modern technology enabled her to hear, and the powerful and emotional moment in which she heard a human voice clearly for the first time was recorded to video and went viral, becoming a YouTube sensation. A media whirlwind followed, with Churman appearing on television shows such as ABC's "20/20," CNN's "Anderson Cooper 360," and on the syndicated show "Ellen," where host Ellen DeGeneres called Churman's post-surgery video footage"the most moving thing I've ever seen." Churman's new book, released by Indigo River Publishing, is called "Powered On," and in it she details her life's journey and offers unique insights from the perspective of a woman who has experienced both sides of a disability.
Churman is still adjusting to her new sensory experience, and she claims to have felt a variety of "mixed emotions" during the process. Many sounds are still jarring for her, but others bring her "so much joy," she says, most notably the voices of her husband and two daughters and, not surprisingly, music: "I get the full spectrum of it now, and it's amazing."
The book is deeply personal and autobiographical, but it is chiefly an inspirational tale. Churman hopes that her story will inspire those who are struggling with a disability and others who feel less than "whole" in any way, she says. She is now a public and vocal advocate for insurance reforms benefiting the deaf and disabled, and she hopes that the book – along with her media appearances – will help to rally others to her cause. "I started realizing that there were others out there like me," she says, "People who longed to feel whole and wanted to experience the things I had. These people are the ones who tug at my heartstrings daily."
For more information about "Powered On," visit http://www.indigoriverpublishing.com.