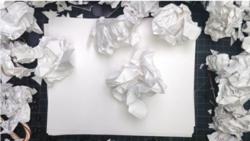 "It's so easy to inadvertently exclude someone. We have clients around the world – not only do they celebrate different holidays, some have never even seen snow. Much less a snowman," said Rick Peterson, president of Hydrogen Advertising
Seattle, Washington (PRWEB) December 21, 2012
Hydrogen Advertising in Seattle today concludes its "12 days of Holiday Misery" campaign by featuring the winning idea that was selected by co-Executive Creative Directors Mary Knight and Tom Scherer.
What idea rose above the rest? "The winning idea is, quite literally, built from the ideas that came before it," said Knight. Viewers who visit the site today will see video of a warm, toasty fire fueled by the rejected ideas of previous days. A simple caption reads: "Warmest wishes from Hydrogen Advertising."
The campaign celebrated one of the most dreaded jobs in the industry: The agency Holiday Card. Over the course of the last 12 days, people visited http://www.hydrogenadvertising.com/12days where they were privy to the misery and good cheer that goes into the execution of each day's new holiday card culminating in a winning card.
According to Rick Peterson, president of Hydrogen, the project is dreaded because the opportunity to make a misstep is always there. "It's so easy to inadvertently exclude someone" said Peterson. "We have clients around the world – not only do they celebrate different holidays, some have never even seen snow. Much less a snowman."
To create the campaign, the whole agency got on board – from media and account management to HR, finance, production and creative.. Ideas were brought to life through Illustrations and animation created by Scott Schmehl, a senior art director at Hydrogen and Brian McCartney, head of digital services.
The team at Hydrogen, rather than shying away, decided to hit the dreaded project head on. For 12 business days, Hydrogen shared the good, the bad and the twisted on their website. On the twelfth day, the winning idea was revealed but visitors can go back and watch previous days as well.
http://www.hydrogenadvertising.com/12days
About Hydrogen Advertising
Founded in 2001 by a group of Seattle's most strategic and savvy advertising and marketing veterans, Hydrogen Advertising provides a full suite of marketing services. Agency clients include Sterling Bank, The Polyclinic, Kenworth Truck Company, eBay, Microsoft, American Advertising Federation, and Agilent Technologies. http://www.hydrogenadvertising.com