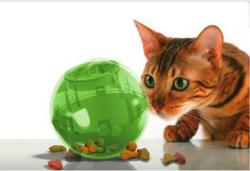 MIAMI, FL (PRWEB) December 24, 2012
Experts estimate that as many as 50 percent of companion cats are at risk for obesity. Feline obesity is not merely a cosmetic problem; obesity contributes to joint disease, diabetes, increased cholesterol, elevated blood lipids, heart and blood vessel disease, urinary and reproductive disorders, breast and other cancers, and skin diseases. A serious health issue, feline obesity threatens both pet well-being and lifespan. WholePetDirect.com offers cat owners a solution with Slimcat.
Veterinary experts give cat owners the same weight loss advice given any human who has ever needed to fight the battle of obesity: eat less and exercise more. Of course anyone awakened at 5 a.m. by a persistent feline feverishly kneading and meowing piteously for breakfast knows that it's often far easier to fill the food bowl than to say no. "I have a really busy schedule and it has caused me to give my cat food all the time instead of keeping her on a healthier schedule. This has resulted in her gaining more and more weight over time," reports Jenny Lunn WholePetDirect.com customer.
Online pet retailer WholePetDirect.com offers concerned cat owners hope and help with Slimcat, an innovative interactive toy by PetSafe. Slimcat seen here is designed to promote healthy feline weight and muscle mass. Addressing both prongs of weight loss wisdom diet and exercise this ingenious globe holds up to 2/3 cup of dry cat food, dispensing it only during active play. Slimcat makes cats work for dinner just as their jungle relatives.
Slimcat's interactive nature improves cat reflexes and alertness, promotes weight loss and maintenance, and promotes healthy digestion by encouraging cats to "hunt" and eat several small meals each day. A fun source of play and exercise, Slimcat enriches a cat's life and, potentially, lengthening lifespan.
WholePetDirect.com invites customers to pass by and discover Slimcat by PetSafe. There, customers can select from among four colors: green, blue, orange/red, and pink. Slimcat retails for $6.98, and ships for a flat rate of $5.75. (Orders over $100.00 ship for FREE.) While visiting WholePetDirect.com, cat owners can peruse the many other items geared to increasing cat activity, including the FunKitty Doorway Dangli, FunKitty Egg-Cercizer, FunKitty Twist 'n Treat Teaser, and the FunKitty Twist 'n Treat.
WholePetDirect.com is a well-stocked online pet supplier and boutique featuring a wide array of pet supplies selected by experienced dog and cat care specialists. Among its myriad offerings are dogs and cat treats and supplements, toys, apparel, and bedding. "At Whole Pet Direct we love our pets and want to keep them as healthy as possible. We also offers a wide variety of health and wellness pet supplies to help problems such as itchy skin, fear and anxiety, housebreaking, bad breath, and stiff joints." states Kyle Breiner WholePetDirect.com executive. Live representatives familiar with all of WholePetDirect.com's products are available to chat online.