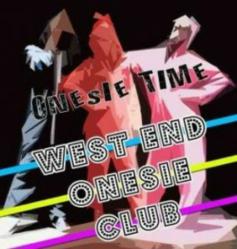 London (PRWEB UK) 27 December 2012
Some of theatrelands finest cast members from top west end shows including: Dreamboats and Petticoats, Hairspray, Loserville, Mamma Mia!, Rock of Ages, Spamalot, Sweet Smell of Success, Taboo, We Will Rock You and Wicked have created a high production, fun party single with 100% of each £0.79 download on iTunes going straight to HIV theatre charity, The Make Difference Trust. Just look for 'Onsie Time!'
Steven Inman, Charity Director said "You have to hear the number to see how incredibly well put together and catchy it is, you will be humming it everywhere you go. We are so grateful to everyone who gave up their time for this project and urge everyone to go to iTunes and download what will surely become a must have party playlist favourite".
There is also a fun youtube video to watch by typing Onsie Time! West End Onesie Club into your search engine.
The charity, like so many in the current economic climate, has seen a considerable growth in requests for support from its crisis fund and every download of the single helps make a difference to the life of someone who really needs support, especially at this time of year.