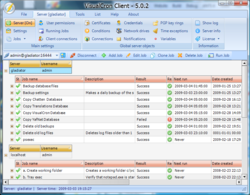 VisualCron is an automation tool for Windows that is used by large companies all over the world. It replaces the built in Task Scheduler in Windows and extends it with a lot more advanced functionality.
(PRWEB) December 21, 2012
New features
Popup Task
The Popup Task enables forwarding messages of any kind from VisualCron Server to send a message or query to connected Clients. The actual answer value will then be transferred back to the Server for optional processing.
Create Excel Task
The Create Excel Task can is able to create standard Excel documents based on CSV input. CSV format can vary and it is possible to set column format.
Crystal Reports Task
Crystal Reports is a business intelligence application used to design and generate reports from a wide range of data sources. Several other applications, including Microsoft Visual Studio, at one time bundled an OEM version of Crystal Reports as a general purpose reporting tool. Crystal Reports is a popular report writer, especially when Microsoft bundled it with Visual Studio versions 2003 through 2008. Microsoft discontinued this practice and later released their own competitive reporting tool, SQL Server Reporting Services (SSRS).
With the Crystal Reports Task you are able to specify a report file. Output options included printing and exporting to a file in another format, like pdf. The result can be filtered with a query.
SQL Event Trigger
The SQL Trigger is able to monitor a table of any database type. With the help of a query it is possible to design a Condition to meet. For example, if x rows exist in a certain Table. This lets the user monitor a table for new events.
MSSQL 2012 SSIS support
Microsoft Integration Services is a platform for building enterprise-level data integration and data transformations solutions. You use Integration Services to solve complex business problems by copying or downloading files, sending e-mail messages in response to events, updating data warehouses, cleaning and mining data, and managing SQL Server objects and data. The packages can work alone or in concert with other packages to address complex business needs. Integration Services can extract and transform data from a wide variety of sources such as XML data files, flat files, and relational data sources, and then load the data into one or more destinations.
Integration Services includes a rich set of built-in tasks and transformations; tools for constructing packages; and the Integration Services service for running and managing packages. You can use the graphical Integration Services tools to create solutions without writing a single line of code; or you can program the extensive Integration Services object model to create packages programmatically and code custom tasks and other package objects.
The latest version of VisualCron supports executing SSIS packages against MSSQL 2012.
Support for "Direct mode" against Oracle Server
With the latest version there is no need for installing the Oracle Client on the VisualCron Server. VisualCron can, with SQL Task and SQL Trigger, connect directly to any Oracle server.
Next version
In the next version we will present:
32 bit forced execution mode for Execute
Optional mode to force an executable to run in 32 bit mode even though it was not specifically compiled for that.
Virtual Server Tasks
Control Virtual Server instances.
About VisualCron
VisualCron is an automation tool for Windows that is used by large companies all over the world. It replaces the built in Task Scheduler in Windows and extends it with a lot more advanced functionality. The application can be evaluated for free for 45 days with full functionality.
VisualCron follows standards like OpenPGP, FTP, SFTP, SSH, SMTP, IMAP, POP3, HTTP for its Tasks. This allows integration with other operating systems and environments like Linux.
About 50% of customers are based in the US. The application has been available since 2004 and has since then gone through a large number of major enhancements. VisualCron is used by all business categories and thousands of customers have experienced the advantages of automating manual Tasks.
VisualCron strive to base enhancements on feature requests from users. During the development phase, the customer is highly involved and able to affect the outcome.
By automating manual tasks VisualCron can reduce errors and save time. With the Client interface of VisualCron you get a full overview of the current situation of Jobs and Tasks.
Partner with VisualCron
VisualCron is looking for different types of resellers and partners. Please contact sales@visualcron.com if you are interested.
Contact VisualCron
Website - http://www.visualcron.com
Sales - sales@visualcron.com
XendApp
Take a look at XendApp - combining the best features of SMS and email.
http://xendapp.com
Tags
automate networkautomation automise automise xstarter winautomation ibm tivoli activebatch vtask studio robotask cacadu 24x7 scheduler HiBase AdTempus scheduled tasks