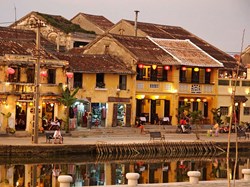 Just with $189 - $389, tourists can get a tour Hue – Danang – Hoi An in 4 days and 3 nights
(PRWEB) December 21, 2012
To create more chances for international tourists who want to visit Vietnam, Vietsmile has launched promotion tours in destinations throughout the country. This program is its last promotion on the occasion of the year-ending. Accordingly, customers will get a discount up to 50% when booking tours from now until the end of December.
Hoi An Old Quarter, located nearby Cua Dai where the Thu Bon River meets Danang Sea, is one of the most interesting tourist attractions in Vietnam. In the past, Hoi An was the most bustle trading center in Southeast Asia when Chinese, Indonesian, Portuguese, Japanese, Spanish, and Dutch merchants exchanged commodities. Not only renowned for its commercial history, Hoi An was originally set up as the multicultural center. It was inscribed on the World Heritage Liston for the well-preserved rich culture vestiges.
Well-known for unique architectural sites with ancient civil buildings, houses, worshipping and religious structures, Hoi An is an exceptional example of fascinating deep-rooted custom, belief, culinary and cultural activities. Considered as the Venice of Vietnam, Hoi An has the typical ancient beauty of the East. Therefore, it has been a preserved Sleepy Hollow of coexisting Asian cultures. Fortunately, the town is also the cultural crossroad of the Cham, the Asian, and the Western culture. Most of tourists coming to Hoi An are keen on walking around the ancient streets, buying nice clothes, unique souvenirs, and traditional paintings. Many people say that they are totally lured by the endless reminiscences of the past time since this Old Quarter was a major commercial port, a center of cultural interminglement amongst Vietnam, Chinese, and Japanese.
It is that festival makes Hoi An's reputation. Tourists cannot deny that they are deeply impressed by the Legendary Night in Hoi An. Joining in the festival, tourists seem to get lost in the wonder land of lively lanterns, glass, silk, folk melodies, and folk games. Therefore, tourists should spend one night here on feeling the whole beauty that Hoi An possesses.
This Old Quarter also is the world of handmade products such as souvenirs, handicrafts, antique pieces, silk materials, art paintings, and so forth.
To meet the high need of tourists who are visiting Hoi An, Vietsmile offers many attractive promotion tours with high quality services. For example, the package named Danang and Hoi An Ancient Town for 1day is just at the price of $38 - $110. Or else, just with $189 - $389, tourists can get a tour Hue – Danang – Hoi An in 4 days and 3 nights. Besides, there are a variety of options available on the website. Promotion tours are waiting for tourists who book soon.