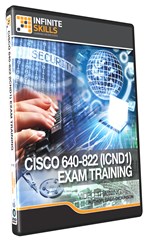 Prepare For The Cisco 640-822 Exam At Your Own Speed
(PRWEB) December 23, 2012
Software training firm InfiniteSkills Inc. this week introduced its Cisco 640-822 (ICND1) Exam Training Tutorial - DVD, a course designed as a study aid for Cisco's introductory certification designation of Entry Network Technician.
The certification is the first of five levels of certification on the way to "expert" level, and the rarely achieved "architect" level. The ICND designation is divided into two tests, the first, covered in this course, focuses on the basics of networking, with special attention paid to IP routing.
InfiniteSkills' Cisco 640-822 (ICND1) Exam Training Video Training - DVD covers all the content tested on this entry-level exam, offering a more efficient and intuitive way to prepare, while covering the same content as printed study guides.
Cisco 640-822 (ICND1) Exam Training Video
Users will also benefit from course author Greg Dickinson's more than 16 years of experience in computer networking. After working with Microsoft networking and Cisco VPNs and networks and mastering all the related networking technologies, Dickinson has most recently worked in the network operations center for a major regional bank. Currently he works with virtualization and storage for a new company.
"I've always sought out challenges, and it's no different with becoming a trainer," Dickinson says. "The adage that you never really learn a subject until you teach it is never more true than in technology."
Dickinson's clear and concise teaching style streamlines students' preparation for the ICND1 exam. Dickinson begins by covering some basic networking concepts, such as IP addresses, ethernet connections, and switches. He quickly moves on to more advanced content, explaining fundamentals of TCP/IP Networking, basic network security, how to configure switches in Cisco, and providing an overview of wireless networking.
The core of the test, according to Dickinson, is understanding routing, so he goes in depth explaining how routers work, understanding Cisco router configuration, routing protocols, and several other key concepts.
After finishing off the exam content by exploring WAN and taking a detailed look at Cisco devices, the course concludes with an extensive lab chapter where students apply all the concepts they have learned by building up a network from scratch.
"To keep up with modern networking, you have to take what you know and build a lab out of it, and break it five times and fix it," Dickinson says. "That's the way the best people in the industry learn. Always asking what happens when. . . "
Free demo videos and a full list of course contents can be found on the Cisco 640-822 (ICND1) Exam Tutorial training page of the InfiniteSkills website:
http://www.infiniteskills.com/training/cisco-640-822-icnd1-exam-training.html
InfiniteSkills offers its Cisco 640-822 (ICND1) Exam Video Tutorial either as a DVD or a direct download from the company website at a retail price of $99.95. All InfiniteSkills titles and formats are both Mac and Windows compatible. Shipping is available around the globe. Additionally, InfiniteSkills tutorials are supported by project files which correspond to examples in the videos, allowing users to work alongside experienced instructors right on their computer or iPad.
About InfiniteSkills Inc.
A leader in the field of software training, InfiniteSkills strives to offer the highest quality training available at an affordable cost. InfiniteSkills tutorials are task-oriented instructional videos, teaching complex skills by providing hands-on examples and guiding users as they carry out critical objectives. InfiniteSkills offers a comprehensive range of software titles available as DVDs, digital downloads, and in iPad editions, keeping with company aim of delivering professional training to customers anywhere they want to learn.