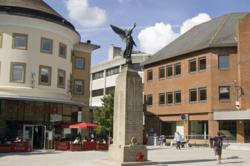 Our report for Woking shows a town that is feeling the effects of the economic downturn along with the rest of the country
UK (PRWEB UK) 28 December 2012
Woking: The third quarter of the year saw a record number of company closures when compared to any other third quarter in the history of Woking, according to recent research by company formation agents, Duport.co.uk. The full report by Duport can be found at http://www.duport.co.uk/woking.
There were 447 closures between July and September, representing an 89% rise on the same period in 2011. New company registrations also fell by 65% during this period, meaning a sharp drop in net company growth for the area.
However, the local council are addressing these issues with a new Economic Development Strategy, launched in April and set to run till 2017. Key aims of the plan are to improve the attractiveness of Woking town centre, encourage business engagement and retention and attract inward investment.
Managing Director of Duport.co.uk, Peter Valaitis said:
"Our report for Woking shows a town that is feeling the effects of the economic downturn along with the rest of the country."
"However, with positive action from the local authority and the many unique assets Woking has, I feel sure that company closures will start to decrease before too long."
The Duport Business Confidence Report for Woking provides an insight into the local economy, using statistics based on Companies House data. More information can be found at http://www.duport.co.uk/woking.
Duport Business Confidence Reports are generated and released by Duport Associates Ltd. The data contained in these reports is assimilated and analysed by Duport using public record data from sources including Companies House, Office for National Statistics and Ordnance Survey. Duport Associates Ltd is a leading UK company formation agent, established in 1997 and registering around 10,000 new companies each year through its Companies House approved software.